Licensees :
ROBERT COOK
1551
-
HARRY JAY
(See THREE TUNS - Henry Jay)
c1740
CHARLES BENNETT
Went to the MAGPIE
04. 1740 to at least May 1747
JOHN GREEN
(Mrs. Green died March 1784)
1755 - 1784
WILLIAM JOHNSON LIVOCK
Previously at the TUNS
Died first week of September 1822 - age 60
1788 - 1822
-
HENRY HART
(Possibly left 29th September 1840)
(Died Thursday 31st August 1843)
1828 - 1841
ROBERT PRATT
Age 50 in 1841
(Possibly took over September / October 1840 - Michaelmas)
1841
JONATHAN NOBBS
(Married Frances Sayer Thursday 11th April 1844)
1843 - 1846
WILLIAM MOORE
& farmer
by 08.1847 -1850
WILLIAM POOLE ALDOUS
age 34 in 1851
& merchant
1851 - 1861
WILLIAM EDWARDS
1863 - 1865
GODFREY NEALE YOUNGMAN
& manure agent
Age 56 in 1891
(given as George Neale in 1869)
1866 - 1904
exors of G N YOUNGMAN
1904
ALFRED BRADLEY
Died suddenly Saturday 12th October 1907 - age 58
1905 - Oct 1907
Mrs ANNIE BRADLEY
Age 55 in 1911
1908 - 1916
WILLIAM JAMES CLEMENTS
1922 - 1925
not listed in directory
1929
THOMAS HAMILTON DENNY
District Manager for Trust Houses Ltd.
1932 to 1954
LEONARD A O'BRIEN &
EMMA M O'BREIN
managers
1939
GERALD GLANFIELD BOYD
30.07.1954
JOYCE LILIAN HICKS
by 1964 - 1970
-
ROBIN TWIGG
2009
-
It was reported 30th December 1854 that Mr.
Robert
Hart, for many years landlord of the Swan Inn, Harleston, had died at Diss on the 21st December, age 62.
(Was this Henry Hart who was in occupation in 1830's?)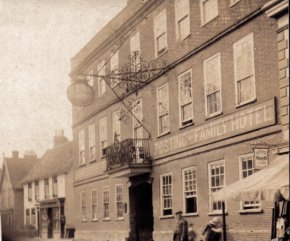 1904

Originally built by Robert Cook in 1551 following his pardon for taking part in Kett's Rebellion. Ownership eventually passed to Henry Tubby, who sold it to Joel Dissermers in 1670. Mr. Dissermers subsequently sold the premises, in 1684, for £600.
The house became the property of the Turners and later, in 1737, sold to Barry Love of Gt. Yarmouth. When the house was inherited by Barry Brightlin Love, son of Barry Love, the licensee was Harry Jay.
In 1758 the house was sold to John Green, who was seemingly still running it to at least May 1783.

Meeting of overseers held here 28th July 1740.
(Was due to have been held at the ANCHOR, but moved to here for reasons unknown).

Charles Bennett informed the Public, 26th April 1740, that he had Taken the Inn.

A Concert was held here Tuesday 6th July 1742 for the Benefit of Mr. Samuel Gibbs, Organist of Eye, Suffolk.
Featuring Vocal and Instrumental Musick.
Tickets 2/6d each.
A Ball to be held afterwards for the Entertainment of the Gentlemen and Ladies.

A Concert, for the Benefit of Signor Pescatore held here 13th January 1746, where he was to perform full pieces on the Harpsichord and several Songs.

Charles Bennett gave notice 9th May 1747 that he had taken the Inn.
Offered to let 6th June 1747, then referenced as the WHITE SWAN.

Advertised April 1751 as being For Sale, a large and commodious Inn, well situated for Business. Apply Robert Ferrier Esq., Great Yarmouth.

John Green advised 3rd June 1758, that having been at the establishment for three years and following the recently completed sale of the property, he would remain in business and sought the Continuance of favours from Ladies, Gentlemen, Travellers and Others.
The same newspaper carried a sales notice for the White Swan, Harleston, saying it would be Auctioned on 5th June 1758 and that John Green was in occupation at a yearly rent of thirty Six Pounds. <It appears that the sale, prior to auction, had not resulted in cancellation of this announcement>

Cock fighting a regular attraction in the mid 1700's.

Mr. William Livock informed the Public, 13th April 1791, that he had fitted up a New and Complete Hearse, for two or four horses.

Mr. W. J. Livock advertised for the position of `An Hostler' 20th June 1804. The person to be hired at Michaelmas would be able to write, brew and bring good character with him.
A Cook was also required and needed to be well recommended.

Mr. W. J. Livock married Mrs. Hazard, of the Bell Inn, Norwich on Saturday 5th October 1805. < Which Bell yet to be identified>

Notice of the bankruptcy of W. J. Livock was published 22nd June 1816.

Offered For Sale by Auction Saturday 27th July 1816, under a Commission of Bankruptcy.
With well-situated bar, large kitchen and pantries, larder, laundry and every other domestic office; 5 excellent rooms on the ground floor; a handsome assembly room, capital bedchambers suitable to make up 25 beds, spacious cellars and wine vaults, lofty and commodious stables and coach houses, a good brew office, and every convenience for carrying on an extensive trade. Together with a pleasure Garden and Bowling Green, Bleaching Ground and Paddock.
The only house within several miles to be free of Brewery.
Freehold Premises with occupation upon completion of purchase or at Michaelmas.

Offered To Let September 1816 with possession from Michaelmas.

In April 1826 an inquest was held into the death of Edward Hawkins, a gardener of Harleston. He had sat alone in the tap room with his back to the fire. As he drank his half pint, the flames caught his coat. He must have been burning for a considerable time, as he was found in a most dreadful state, almost suffocated by the smoke. The floor boards were burnt to the joists. He lingered until nine o'clock in the evening and then died.
Verdict - Accidental death.
~
Mr. Hart held his house warming dinner in November 1828. 55 Gentlemen of the town and neighbourhood sat down to a dinner and dessert and did the landlord much credit.
~
Offered To Let 26th July 1828, including Brewhouse, productive Garden, Bowling Green, Bleaching Ground and Paddock. Containing about 2 Acres. Possession from Michaelmas.

Auctioneer gave location as Redenhall with Harleston in 1828 sale.

In 1830 the coach the ROYAL BRANCH MAIL called every evening at 6:00pm on route from Gt Yarmouth to London (Passengers were to transfer onto the NEWMARKET MAIL upon arrival at Bury St Edmunds). The same coach returned at 8:00am the following morning.
The BRANCH TIMES called every morning at 7:00am on route from Beccles to Scole (To meet the NORWICH TIMES for onward connection to Sudbury and London). The return stop was at 7:00pm the same evening.

Offered To Let, September 1835, for a term of years, in consequence of the occupant, Henry Hart, intending to retire from business.
The same advertisement appeared 17th August and 14th September 1839.
Advertised again 22nd February 1840 To Be Let for a Term of Years. Still in occupation of Mr. Hart, possession to be from Michaelmas 1840. The Stock, Furniture, Horses, Chaises and other items may or may not be taken by the incoming tenant.

Henry Hart informed 17th October 1840, that he had given up the Inn and Robert Pratt had taken the Inn.

Jonathan Nobbs announced November 1843 that he had taken over the Inn. The Opening Dinner would be held on Monday 4th December 1843. Tickets, including a bottle of wine, would cost 8s 6d each.
A later report, 9th December, records that upwards of 80 Gentlemen attended.

Jonathan Nobbs assigned his Personal Estate and Effects to Trustees for the Benefit of his Creditors in a document dated 23rd January 1845 and would be executed within two calendar months from that date..

The Live and Dead Farming Stock, Furniture and Effects of William Moore were offered for sale, August 1847, since he had taken the Swan.
The lease to William Moore expired at midsummer 1850.
in consequence the Furniture and Miscellaneous Effects were for sale by auction on Thursday 20th June 1850 and the following days.

Offered for sale 1854.

For sale by auction Wednesday 8th August 1866.
Described as a valuable Free Commercial Inn and Posting-house with a large amount of cellarage, Stables for 100 Horses, Carriage Houses and other Outbuildings, Paddock, Large Garden and Charming Bowling Green. Freehold with occupation Michaelmas 1866.
The furniture was sold during the week beginning Monday 8th October 1866 and very good prices were achieved. It was unknown at the time if a new tenant had agreed to take on the establishment.
Advertised as a Commercial & Family Hotel and Posting House in early 1900's

Offered for sale by auction 22nd August 1904 following the death of Mr G N Youngman.
Recommended by D A Yates in 1969 and 1970 guides.

One of only 18 Norfolk public houses recommended by the Egon Ronay pub guide of 1969.
` A comfortable Dickensian atmosphere combined with skilful supervision by the landlady'.