Licensees :
FREDERICK WILLIAM HILL
(Brewery representative ?)
02.1934
RICHARD BUTLER (22.06.1935)
27.06.1935
HERBERT HOWARD SNELL (18.11.1940)
30.10.1940
JAMES CHARLES FISK (01.04.1949)
02.04.1949
to at least 1967
Mr LES IZZARD &
Mrs BILLIE IZZARD
c1972
-
MARION & ROD SAUNDERS
c1983
SADIE & JAMES ANTHONY SHIPSTONE
c1996
PATRICK J CUTTER & IVAN D BROWN
05.10.1998
PATRICK J CUTTER
12.2006 -
03.04.2011
Closed 04 to 08/2011
?
by 29.08.2011
SIM NIGHT
by 12.2012
VICTORIA & GRAHAME MacDONALD
by 06.2014 - 31.12.2014
CLOSED
JOHN BUNKELL
06.2016 - 02.2017
CLOSED
-
Thanks to Patrick for the updates 07.12.2003 & 03.02.2009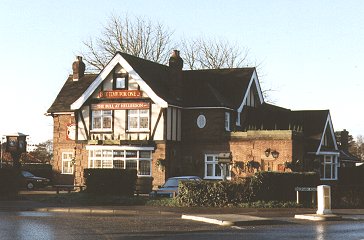 1998


First licensed 1934

Licence of the STAR INN at Whitwell removed to these premises 03.03.1934 and the licence of the CROWN at Banham was to be surrendered without compensation.


Full Licence granted 27th June 1935

The first licensee is given in S&P documents as R. Butler.
The right hand column of the table opposite gives the date of landlord taking over the house according to S&P records. The dates in brackets are as recorded in the licence register.

Also known as THE BULL AT HELLESDON


Ei announce July 2018 that works are ongoing inside and the house soon to reopen as the
CHESTNUT TREE.