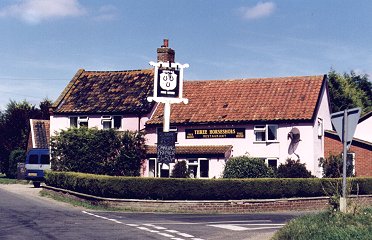 Beerhouse keeper Elijah Feltham, age 40, was found guilty of stealing 62 lbs of hay, worth 2/6d from the farm of John Todd the elder on 25th March 1864 (Good Friday). At the hearing held Wednesday 29th June 1864 Mr Feltham claimed that he had gained permission to take the straw from Mr. Todd's son. The son could neither swear that he did or did not give permission since on the day it was said that he had talked to Mr. Feltham he had been to church and then got `rather boosy' at the Kings Head and could not recall any conversation.
Feltham was sentenced to three month's detention with hard labour.
~
Closure agreed at First Joint Committee Meeting of Bullards and S&P 29th May 1962, unless trade was to improve substantially.
Sales given as 69 barrels.
Licensee said to be 28 years old and to have been a tenant for 2 years.