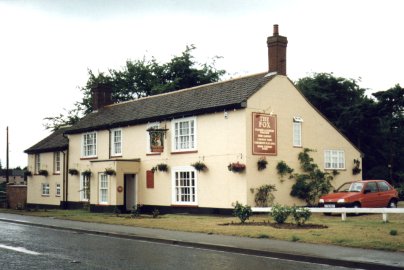 1996

It is said that in 1717, travelling beggar Sarah Parr fell ill and died of the plague here.

Shown on Bryant's map of 1826.

Mrs. Pye was given as keeper of a public house in Hevingham where an assault had taken place in December 1842. Constable John Cox had intervened in a quarrel between Robert Farrow, Samuel Stone and John Wont at the request of Mrs. Pye. Cox was thrown out of the house by the three, having his head cut by the door post. He said he would forgive them if they left quietly. Thirty minutes later another quarrel took place and the constable decided to clear the house. Once again he was beaten and ill-treated. Only after calling for assistance were the three ejected.
In court Wednesday 4th January 1843, the three were advised by their legal representative to plead guilty.
Stone and Want received 24 hours imprisonment and Farrow to seven days.

~

Mrs. Elizabeth Scott is reputed to have ruled the bar with an `arm of iron'
William Hardy Cozens was admitted tenant to the Fox on the 21st December 1842 by surrender of Siday Hawes.
Title passed to Clement William Hardy Cozens Hardy who in turn sold this house, and the majority the Letheringsett Brewery estate to Morgans Brewery in 1895.
Sales 1960 of 92 barrels of beer, 49 spirits