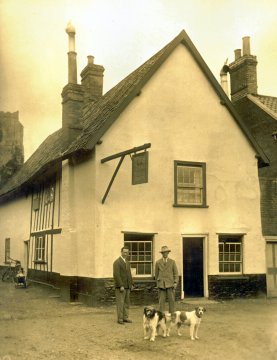 Licensee Frank Hubbard (left) with dog Gyp.
Other man and dog unknown.
1925
~
One of four freehold public houses sold by auction Thursday 12th September 1833 along with a dwelling and brewery in Hingham, plus ten other lots including land and cottages.
Lot 4 with yard and out-buildings thereto belonging, in occupation of Samuel Hinchley.
~
Offered to let September 1854 with possession from Michaelmas.
With Stables and other Conveniences, doing fair business.
~
To Let September 1863 with possession from Michaelmas.
~
Offered to Let from Michaelmas 1865 - Apply Watton Brewery.
~
Lot No. 11 in sale of Watton Brewery properties held at the Crown Inn, Watton on Wednesday 22nd August 1866.
Described as in the occupation of William Crozier. Described as sitting next the Market Place and abutting on the Churchyard, containing a Bar Parlour, Tap-room, Inner Bar, Pantry, Club Room, Four Bedrooms and Attic, and large Cellar. On the opposite side, also a detached Brick-and-tile Wash-house, Two Stables, Gig-house, and inclosed Yard and Pump therein.
Rent £10. Freehold. Land-tax 4/6d per annum. Free Rent to the Manor of Hingham Rectory 5/1d per annum.
~
On 9th September 1873, the magistrates refused to re-new the licence since the house did not appear to met the annual value as stated in the 1872 Licensing Act. The house was to be valued by the 16th September and if of sufficient value, the licence would be granted.
(Minimum annual value given for other Norfolk houses in the range £11 to £15)
~