Licensees :
WILLIAM RUMBOLD
1781
THOMAS CLARKE
1791 - 1793
THOMAS CARR
(It was reported 27.09.1823 that Thomas Carr late of the White Hart, had died during the previous week - age 63)
?
..... HORNE
1822
SAMUEL NEWSON
brewer & spirit merchant
1830
WILLIAM HOWARD
Previously at the Kings Arms, East Dereham - but still apparently the owner.
Died 7th June 1836 - age 70
His wife Dorcas inheriting the East Dereham inn
and his daughter, Mary Ann, wife of George Samuel Dakin, inherited the White Hart..
1835 - 1836
WILLIAM HENRY DAKIN
(in occupation 1836 according to
the will of William Howard - had been mentioned in June 1835 list of Bankrupts as an Innkeeper of Hingham, having been awarded a Certificate. [ clear of debt ?])
1836
WILLIAM TINDALE
1839
JAMES MORTLOCK
age 25
1841
ROBERT COE
03.1843 - 1849
ELIZABETH COE (widow)
age 46 in 1851
1849 - 1861
THOMAS CLARKE
age 38 in 1871
1861 - 1871
.... BLYTH
August 1871
ROBERT HENRY CLARKE
1872
WILLIAM MINNS MARIS / MARRIS
1875 - 1877
HENRY WILLIAM OWLES
& farmer
age 34 in 1881
1879 - 1886
ROBERT McEWAN
1890
HERBERT DARNELL
age 22
1891
THOMAS HENRY HUBBARD
1892
JOHN VINCENT POTTER
1896
FREDERICK CHARLES PAYNE
age 46 in 1901
1900 - 1908
CHARLES WILLIAM POTTER
Age 42 in 1911
1911 - 1925
ROBERT JOHN RAYNER
1926 - 1954
MICHAEL HAWES
1954 - 1958
RONALD BAXTER
1959 - 1967
DONALD BEST
1967 - 1968
Mr & Mrs DAVID W GATHERCOLE
1969 - 1974
AUBREY MORTON
1974 - 1977
DAVID RIDLEY
1978 -
-
MATTHEW PAMPLIN &
KATIE HALES
by 2016
In 1954 Michael Hawes was 27 years old and previously served ten years in the Merchant Navy before taking on the White Hart.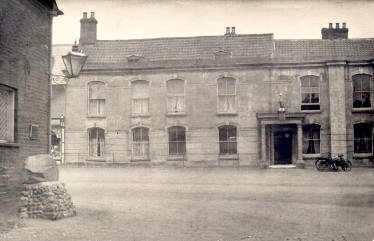 c1925
The stone to the left was presented from Hingham U.S.A.
(Still in situ today)
Earliest mention 1470.
Called the HART in 1472.
Possibly became the WHITE HART during the Wars of the Roses.

Extensively rebuilt in the 1770's and became a Posting Inn.

~
ALLDAY & KERRISON announced that in pursuance of his Majesty's Proclamation, they would be at the house Friday 3rd May 1776 to exchange deficient gold coin, coined before 5th January 1772. Guineas, Half Guineas and Quarter Guineas would be exchanged for new coins, provided they were within weight limits.
~

For Sale by Auction Friday 6th January 1842, with Brew-house, Stables Gig-houses and other Buildings. containing a 6ft by 18 ft Ballroom; 3 Sitting-rooms, 8 Sleeping-rooms, Bar, Kitchen, Scullery, Larders, Pantry, Beer and Wine Cellars and a conveniently situated Tap.

Robert Coe announced 29th March 1843 that he had purchased the Inn and proposed to occupy it himself and carry on the business in all its branches. Extensive alterations and improvements had been commenced.
In November 1843 he advertised that an Opening Dinner would take place on Tuesday 28th November. Tickets 10s each.
He had previously been at the GEORGE INN, Watton.

On the 3rd July 1845, Robert Coe advised the Public that having been honoured with instruction from the Railway Company to run a Conveyance from Shipdham, through Hingham to Norwich, via Wymondham, a Light Post Coach would run every Wednesday and Saturday morning from the DOG at Shipdham (7:30), the WHITE HART (8:30) to meet the Down Train at Wymondham (9:20). The return to meet the Up Train in the afternoon (4:30) to arrive at Hingham (6:00) and Shipdham at Seven o'clock. First Class 5s, Second Class 3s.

In a notice dated 11th July 1849, all those having claim or demand on the Estate and Effects of the late Robert Coe were requested to send their account or to settle their debts, to his widow, Mrs. Elizabeth Coe.
The same notice advised that the Inn was to be Sold by Private Contract and included Stables, Coach-houses, Offices, granaries, other Out-buildings, Garden, Cottage, Barn and Nine Acres of fine Arable Land.

~

Offered for sale by auction in August 1852 following the death of Samuel Newson.
(His widow, Mary Ann Newson is listed in 1852 as a brewer)
Steward & Patteson recorded that landlord Blyth required (non-detailed) attention to his licence - August 1871.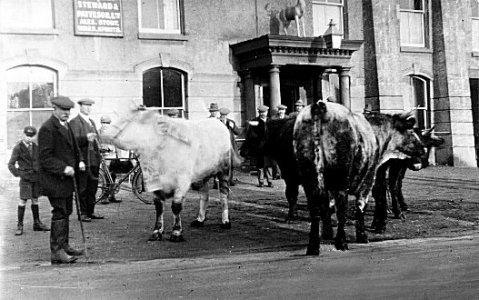 Market Day c1920
When renovations were being carried out in September 1954, an compartment was found within the chimney breast being worked on. The space was large enough to contain a person and incorporated an alcove in the wall fitted with a shelf. It was not part of the chimney since there was no evidence of soot. It was suggested to have been a `priest's hole'.
During the restoration a letter dated 1836, a copy of the Daily News dated 1846 and a 1903 copy of the Eastern Daily Press were among the finds.
A pair of Cromwellian boots had been found some years earlier.

D A Yates recommended 1969 & 1970