Licensees :
-
?
1849
ELIZA CHAPMAN
age 26
**1850 - **1851
JAMES CHAPMAN
*1854
WILLIAM HOWE
*1856
JAMES CHAPMAN
*1858 - 1864
JAMES BARRETT
*1865
EDWARD ANDREWS
(Edwin Andrews 1869)
*1868 - 1871
JAMES BAKER
& farmer
1872 - 1890
Fine of 10/- plus £1/3/6d costs for permitting drunkenness - 11.12.1875
JAMES KNIGHTS
Age 64 in 1911
by 1900
WILLIAM PUNT
18.10.1913
HERBERT CLEMENT PUNT
27.10.1928
ALBERT VICTOR CARTER
13.10.1934
CHARLES COOPER
08.10.1949
THOMAS PAUL O'GORMAN
06.02.1954
-
-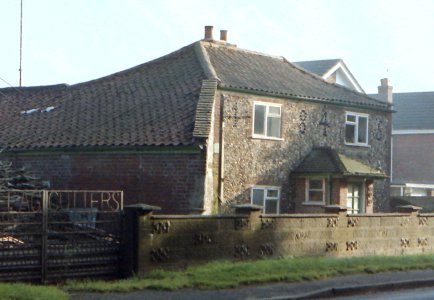 1995 - a private dwelling.

1960's

A flint and brick building with a date of 1845 showing on frontage.


On Sunday 19th August 1849 two constables arrived at the house and heard a great disturbance opposite. There had been no less than three fights at the house during the same day. Situated near the common, the house was the resort of disorderly customers. A young woman had been insulted and had called for assistance. The parties quarrelled in the house and afterwards turned out onto the Heath to fight. The antagonists, John Pratt and Avison Lovett, were bound over in their own recognizances to keep the peace for 12 months. A young lady (Not named) in whose name the licence was held was charged with allowing disorderly conduct. The Reverend O. Mathias testified that the house was notorious throughout the neighbourhood. The young lady admitted that she worked in Norwich for the greater part of the week and the house was kept by her relatives. She was ordered to pay a fine of £1, and 14s costs.
Became a private dwelling.
Plan to demolish announced April 2018 in order to position an access roundabout to new housing development.

DEMOLISHED by end June 2018.