Licensees :
-
RICHARD CANTRELL
1776 - 1794
.
THOMAS S. LOVEWELL
Age 42 in 1841
1834 - 1841
.
JAMES THURLING
age 61 in 1851
1845 - 1853
JOHN GRAVES
& 11 acres
Died December 1877 - age 59
11.10.1853
HANNAH GRAVES
Age 59 in 1881
by 1878
GEORGE THOMAS GRAVES
21.06.1886
Mrs EDA ELIZABETH GRAVES
20.09.1894
WILLIAM FREDERICK HUBBARD
From 1897
HENRY JOHN PATIENCE
19.10.1903
EDWARD LIGHTENING
05.03.1906
HERBERT JOHN ROWLAND
30.11.1925
- 1930
EDWARD ALBERT LOCK
01.02.1932
HERBERT R W GLISTER
25.03.1946
JACK & JOAN WILLIAMS
(John Ellis Williams)
14.02.1955
to at least 1975
.
CLARE & DARREN EMMETT
by 2002
TREVOR BROWN
April 2013
YVONNE WRIGHT
by 2017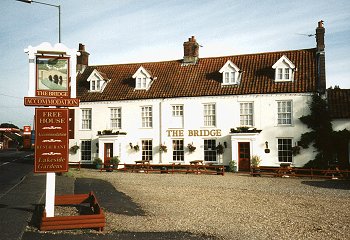 2001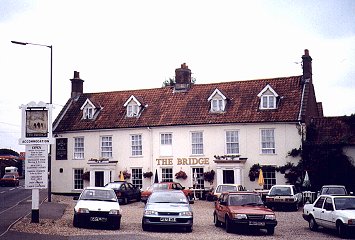 28.07.1996

The Norfolk Chronicle of 13th July 1776 advertised
``The annual Bean Feast will be held at Richard Cantrell's at Lenwade Bridge.....''

Shown on Bryant 1826 map.

Thomas Lovewell returned his grateful acknowledgements to his Norwich Friends and Public in general, in an advertisement dated 15th November 1834. He offered Good Accommodation, Post Chaises or Horses, Grass and Hay for the Accommodation of Bullocks plus Good Wine & Spirits and Home Brewed Ale.

Lot No. 3 in the sale by Auction Saturday 18th June 1853 of the Estate of Peter LeNeve Foster, Esq.
All that well situated Road House, known as Lenwade Bridge Inn, in full trade, in Great Witchingham, containing tap, bar, hall, parlour, dining room, 8 sleeping-rooms, wash-house, offices and cellars, with stables, coach-house, cart-lodge, barn, slaughter shop, sheds and all convenient outbuildings. Also Four pieces of rich Meadow Land, abutting on the Wensum. The total site being 11A. 0R. 12P. In occupation of James Thirling at the yearly rent of £15, with Notice to Quit Michaelmas 1853.
The sale included a total of 10 Lots.
Lot 1 being the Water Corn Mill.

Advertised To Let October 1853 - Apply to Mr. R. Bullard, Brewer, St. Miles Bridge, Norwich.


No change recommended at the First Joint Committee Meeting of Bullards and S&P 29.05.1962
Sales reported as 189 barrels.
A popular haunt of anglers throughout the season.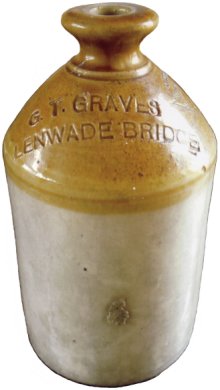 A quart jug dating from c1890