Licensees :
-
JOHN ELY
1789 - 1790
JEREMIAH CLAYTON
Died by 02.1820
1794 - 1820
-
HONOUR SLIGHT
1836
GEORGE ALBROW
1839
HONOR ALBOROUGH
1845
CHARLES BETTS
age 55 in 1851
1846 - 1851
CHARLES AYTON
1856
NORRIS LEACH
1858
ALFRED LEECH
& coal merchant
Age 28 in 1861
1861 - 1872
THOMAS WARNES
1875 - 1883
R. A. KNIGHTS
1888
WILLIAM TURNER
Age 25 in 1891
1890 - 1900
JOHNSON CAPP
1904
THOMAS PELLS
1908 - 1925
Ordered to pay costs at some time during the year 02.1908 to 02.1909 for permitting drunkenness.
HARRY HOLDER
1929
WALTER J. ANGEL
1933
THOMAS WILLIAM THURLOW
1937
.
JOE TAYLOR
08.2002
-
| | | | | |
| --- | --- | --- | --- | --- |
| | 1994 | | 03.1998 | |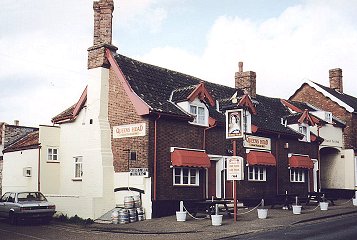 Original house said to have been built in 1668 from ships timbers - The pension of the captain. (Peter Scotchbrook ?)

5th February 1820 - Debtors and Creditors of the late Jeremiah Clayton, Ale-house keeper, were requested to immediately settle their business.

Licence renewal deferred Tuesday 9th February 1909, to be considered on 23rd February.