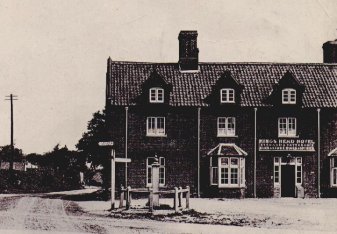 c1910
Before glass canopy over main door and sign post near pump.
An auction of properties was held here 20th March 1776.
In 1778 a Tilted Carriage, owned by Mr. Bereton set out at 3:00am from Brinton on 22nd December and again 29th December, to deliver game and presents to London. Collections would be made on the day prior to the journey on a route including Melton to Newton, via Mr. Daynes at the Kings Head, North Elmham. Stops at Guist, Stanfield, Mileham and Litcham were also on the schedule.
Appears on Bryants 1826 map.