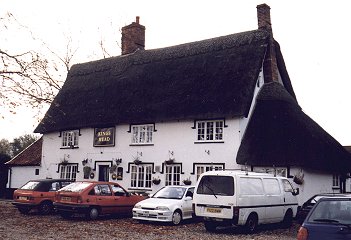 1997
Recorded in Manorial Deed of 23rd October 1792
as including weaving shop, stable, firing house, land and premises.
Being the admission of Charles Wood and surrender of George Wharton.
Others mentioned in the document :-
John Buckenham, Margaret Grice, William Grice, Gardiner Harwood,
Charles Murton, Samuel Porter, Robert Welham and Thomas Wharton.
The fully licensed
KINGS HEAD
was offered To Let 17th November 1939 - Apply to Youngs, Crawshay & Youngs Ltd., Crown Stores, Diss.
Owing to ill health, the Well-kept Household Furniture of Mr. Leonard Blowers was offered for sale by auction, on the premises, on Thursday 23rd November 1939. Items included Tables and Chairs, two Pianofortes, Carpets, Rugs, a new Oak Bedstead, Iron Bedsteads, White Enamelled Bedroom Suite, Washstands, Chests of Drawers, Kitchen and Culinary Requisites and 4 Oil Cooking Stoves. Outdoor effects included a New Lawn Mower and a Garden Seat.
No change recommended at the First Joint Committee Meeting of Bullards and Steward & Patteson 29.05.1962.
Sales reported as 136 barrels.