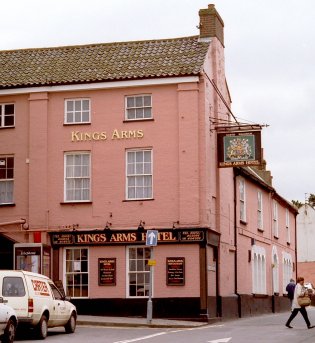 1995
As advertised for sale March 1808.... ` A Capital Inn, occupied by the proprietor Mr John Payne who is to retire.'
~
Lord Suffield held a meeting here 14th September 1811 regarding the construction of the North Walsham to Dilham canal.
A dinner was held here, in the presence of the Honourable (Colonel) John Wodehouse, to celebrate the opening of the canal in 1826.
(Canal opened 29th August 1826 - Navigation officially ended in 1935)
John Sharpe held a Public Dinner here on Wednesday 8th July 1812.
The Dinner would be held in the Assembly Room and commence at four o'clock. Tickets ten shillings and sixpence each.
<Equivalent in 2017 to a value of £522 according to one source!>
Once an important Coaching Inn.
By 1830 a coach left for Cromer every Monday, Tuesday, Thursday and Saturday at 6:00pm. Another coach left for Norwich at 10:00am every Monday, Tuesday and Thursday. Departure to Norwich was at 9:00am on a Saturday.
The coach the MAIL CART left for Norwich every day at 2:00pm.
~
The wedding of Her Majesty was celebrated here on 10th February 1840.
The King's Arms was most conspicuous in the illuminations and the landlord, Mr. Howes regaled the poor with strong ale..
~
For sale by Private Contract May 1847.
Owner John Sharpe had been proprietor of the house for `upwards of thirty years' and a lucrative business had been carried on for many years.
The house in occupation of Mr. John Howes, a very respectable tenant.
About 25 Acres of very excellent Arable Land, lying near the premises was also available for hire.
Offered To Let August 1847 by proprietor John Sharpe.
In occupation of Mr. Howes, a highly respectable tenant whose term was to expire at Michaelmas.
Advertised again 18th September 1847.
Offered For Sale Tuesday 8th April 1851 upon the instructions of the Executors of the late Mr. John Sharpe.
~
The Furniture, China, Glass, about 180 dozen bottles containing Port, Sherry and light Wine, Post Horses, Clarence, Hearse, & Mourning Coaches, Gig, Dog and Luggage Carts, Wine Truck and Horse Harness were all for sale by auction 7th, 8th and 9th October owing to the tenancy of Mr. Arthur expiring on 10th October 1856. The sale included the contents of the several Entertaining Rooms, Bed Rooms, Larder and Kitchens, Bar, Cellar, Yard and Stables.
~
County Court held here during the 1850's.
For Sale by Auction Thursday 11th May 1865 along with 24 Acres of Land which was contiguous to the Norwich Turnpike and projected Railway.
On Sunday 27th August 1899 proprietor John Walpole Palmer sent Jockey Elvin on one of his fastest horses to all the local farms.
The Town Hall was on fire and within 30 minutes 30 water carts were lined up at the fire pumps. The Town Hall was destroyed.
The site became the Manor Hotel.
A Freemasons meeting place for over 200 years.

Damaged by enemy action 31.12.1942

One S&P record states that the house was purchased for £7,000 in 1927, however the S&P Trust Deed states £5,500 was paid 17.04.1928