Licensees :
-
.
JEREMIAH SHALDERS
& farmer
* 1861 - * 1877
Mrs SUSANNAH SHALDERS
1879
SAMUEL RICHMOND
& farmer
* 1881 - 1900
WILLIAM RICHMOND
by 1903
HARRIET CELIA RICHMOND
06.06.1933
CELIA ETHEL MAUD RICHMOND
01.09.1942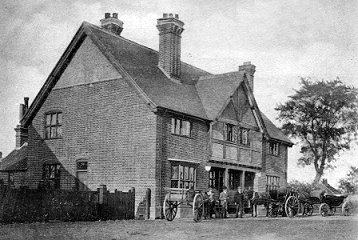 c1905

A wine licence was granted on Tuesday 23rd August 1887 following Inspector Basham reporting that there was nothing whatsoever agains Mr. Richmond's establishment.


As the SPORTSMENS ARMS 1938.

The Eastern Evening News of 27.10.1948 reported that licensee Miss Celia Richmond had called `Last Orders Please' for the final time.
The premises had been acquired by the Gt. Yarmouth Waterworks Co. in 1901 and was leased to Lacon & Co. The Waterworks Company had applied to the Ministry to build cottages to house employees, but building restrictions had been imposed preventing the construction.
The public house was to be converted into 3 dwellings. "The last thing we wanted to do was to take away one of the amenities of the village" said Mr. H. A. C. Salmon, Waterworks secretary. "The housing shortage is very acute and we cannot get men unless we can offer accommodation...... withdrawal of a licence to build new cottages has left us with no option".