Licensees :
-
JAMES PLUMBER
1836
THOMAS SKOYLES
1845
EDWARD SHALDERS age 32 in 1851
& horse breaker
1846 - * 1851
JOHN GEORGE
1854
WILLIAM WRIGHT
1858
HENRY RICHES
1861 - 1869
BENJAMIN BECK
* 1871 - 1883
WILLIAM MYHILL
1883 - 1892
FRANK GRAY
by 1896
BASIL BOAKE
11.05.1943
Mr & Mrs ALEX NELSON
(Previously at the Kings Arms, East Dereham)
November 1951 - late 1962
TILLIE & WALTER TALLENT
1973 - 1975
-
-
-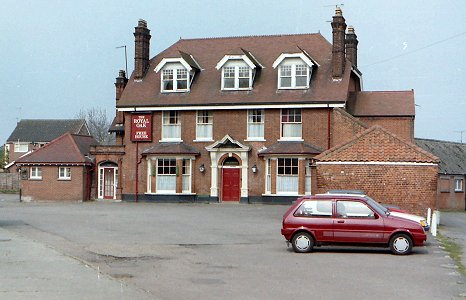 April 1996
On November 26th 1868, Mr. Riches sued Mr. Page, a carter, for the sum of £5. The sum being due for ten weeks' board and lodgings by Mrs Page who had separated from her husband in consequence of domestic differences.
Mr. Page was ordered to settle the account and to pay his estranged wife 4s per week, she already in receipt of an annuity of 6s per week.
When objecting to a full licence being awarded to the FIRST & LAST, Tuesday 8th May 1934, Frank Gray said he had been at his house for 38 years and had seen a decrease in trade owing to the disappearance of horse traffic on the road.

Morgans sales for 1960 were :-
130 barrels of beer
64 spirits


Converted into accommodation by 2012.