Licensees :
-
RICHARD ATCHESON
1830 - 1831
JAMES GILL
age 46 in 1851
& farmer
1836 - 1872
GEORGE HILL
age 50 in 1881
1875 - 1883
JAMES HUNTER
& farmer
1883
Fine of £1 and £1 0s 6d costs on 12.02.1883.
See opposite.
ROBERT SAMUEL SAINT
age 48 in 1891
1888 - 1892
JAMES BEATON / BEETON
age 57 in 1901
1896 - 1908
Mrs CHARLOTTE BEETON
age 68 in 1911
(Died 14th February 1926 - age 83)
1911 - 1912
ALBERT HENRY COLESHILL
by 1916
HENRY KING
30.09.1929
JAMES LONGMUIR
26.09.1932
ROBERT ERNEST MOOR
27.09.1937
ARTHUR SHARPE
15.07.1940
Mr CLEAVER
to closure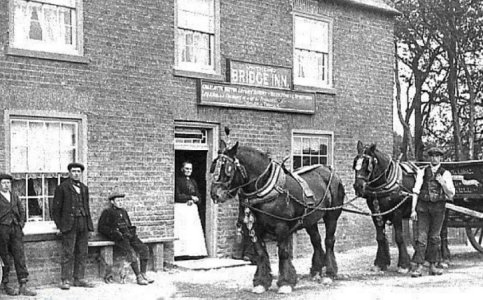 Mrs Beeton at the door, Charles Welbourne is to the right.
Image thanks to William Smith, from his book `Outwell in a Nutshell'.


On Monday 12th February 1883 William Pikett, the licensee of the BLACK HORSE at Barroway Drove, charged James Hunter of entering his house and committing an assault. After somewhat conflicting evidence about ill-feeling between the two and two other customers, it turned out that Hunter had been hit by Pikett with a piece of wood. Pickett was then charged with assault on Hunter.
The Bench found in favour of Pikett and thought his actions were in self-defence. Hunter was fined £1 and 20/6d costs.
The second charge of assault by Pikett on Hunter was dismissed.

Closure agreed at the First Joint Committee Meeting of Bullards and Steward & Patteson, 29.05.1962.
Sales then given as 50 barrels.
The house survived until 1966.

Sales given as 51¼ barrels for the year immediately prior to closure.
`Uneconomic' given as reason for closure when licence surrendered.