Licensees :
ROBERT PETER GLADDEN
& joiner
& carpenter
*1845 - 1861
Mrs MARY ANN GLADDEN
*1864 - *1865
EDWARD PAGE
& carpenter
& coal merchant
Age 72 in 1911
by 1868
Mrs PAMELA PAGE
(Mrs Edward Page)
15.12.1911
WALTER MARK WARD
20.10.1913
ARTHUR JAMES ANDREWS
21.12.1931
ROBERT T. SMITH
18.10.1954 -
early 1980's
-
PHILIP SHAW
by 2012
JAMES ANTCLIFF-STONE
12.2016
CLOSED
GLEN & LISA MALLETT
08.2017
Robert Smith also worked as a retained fireman and drove the Reepham fire tender. When the Commer fire tender was taken out of service, Bob was allowed to use the bell off the tender to ring time. He also repaired shoes and was a part time bus driver.

Thanks to C. Jordan for the info
.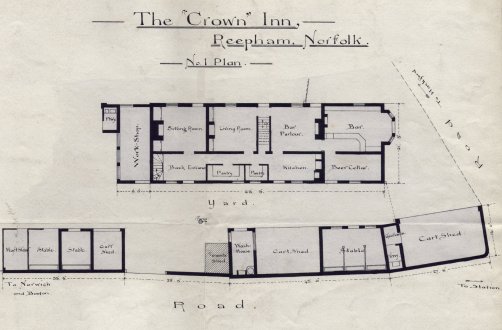 1889 plan


Mr. E. Page applied for a six day licence for the Crown beerhouse, Monday 25th September 1873 - Granted.

A six day licence was held from 1873 to 1882

A seven day licence was granted 04.09.1882
and an application was made for a spirit licence,
this was refused at the following Sessions.

An application was made 03.09.1883 for a spirit licence,
it was again refused by the County Licensing Committee.

The application for a spirit licence, made on 01.09.1884
was granted by the County Licensing Committee.


Closure proposed at the First Joint Committee Meeting of Bullards and S&P 26th May 1962 - Subject to inspection by Mr. L. Canham. Sales reported as 74 barrels of beer.
The house did not close, it seems that Mr. Canham was suitably impressed with the viability of the house.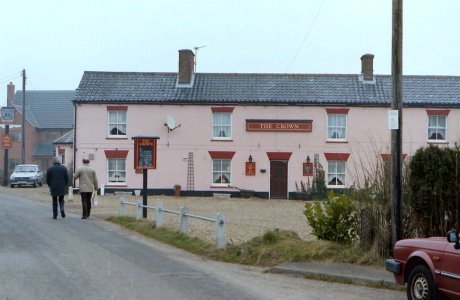 March 1996

January 2013 - Threatened with closure and conversion into dwellings with rest of site used for more housing.

House awarded Asset of Community Value status August 2013.

House closed winter 2016/7 to re-open 12th August 2017.