Licensees :
GEORGE RICHARD HARROWVEN
01.02.1915
GEORGE MEADOWS BREEZE
07.11.1921
ALBERT ERNEST HOUGHTON
11.11.1929
EZEKIEL SUMMERS
17.10.1932
SAMUEL PRATT
30.09.1935
JOSEPH SEAMAN
07.03.1938
Mrs LOTTIE LILY SEAMAN
01.12.1959
REGINALD NORMAN FEEK
(Brewery representative)
20.04.1964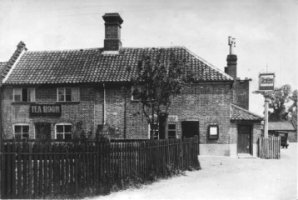 c1950

Formerly the KING OF PRUSSIA.

Renamed 01.02.1915 following the outbreak of WW1.

Closure (in the previous month) agreed at the First Joint Committee Meeting of Bullards and S&P 29th May 1962
Sales reported as 52 barrels.