Licensees :
EDWARD TUCK
(Master butcher, Market Street in 1851 - no mention of beer. Age 44)
1838 - 1847
DAVIT THOMPSON
1861 - 1863
WILLIAM RUDLING
*1864 -1869
WILLIAM COPLAND
1871
ROBERT PEASE
1872 - 1886
WILLIAM POOLEY
1891
JOHN ETHERIDGE
by 1897
to closure
Licence renewed Friday 19th February 1904, but only by personal application to the Bench by the house occupier, since he had recently been convicted of allowing drunkenness on the premises.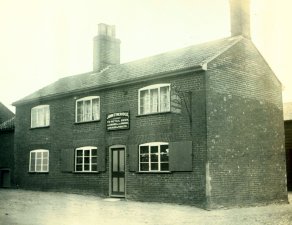 1897 image from the collection of the late Percy Rush.
Shown with permission


Lot No. 6 in sale by auction Thursday 3rd May 1838.
Described as `All that capital and Substantial Re-built Brick Dwelling House, now used as an Alehouse, situate in Market Street, with the stables, outhouses and yard thereto belonging, most desirable situated for the road, commanding a good retail Beer Trade and now in the occupation of Mr. Edward Tuck.'
Lot No.36 in auction held 8th & 9th September 1847
The estate of the late John Morse, a beerhouse including :-
Large Yard, Barn, Stable & Outbuildings adjoining.
Copyhold to the manor of Shipdham.
Purchased by Steward.
Referred to Compensation 1920
Licence expired 25.01.1921