Licensees :
-
-
MICHAEL ELMER
here 09.09.1789
-
WILLIAM TAYLOR
1830 - 1836
THOMAS YOUNG
according to Pigot
1839
JOHN YOUNG
according to Robson 1839
Age 30 in 1841
1839 - 1846
THOMAS YOUNG
according to Slater
1850
JAMES YOUNG
age 24 in 1851
& plumber & glazier
1851
JOHN YOUNG
Age 54 in 1861
(wife Harriet age 53 in 1861)
1854 - 1863
Mrs HARRIET YOUNG
1864 - 1865
JOSHUA BAMBRIDGE
1868
JOHN LAW GIRDLESTONE
Age 33 in 1871
1871 - 1872
JOHN BURCHAM
1875 - 1879
LAWRENCE HARPER
1879
HENRY COBB
Age 45
& harness maker
1881
WILLIAM LUNNESS
1883 - 1888
WILLIAM LAKEY
1890 - 1892
MARTIN WALKER
1896 - 1912
HORACE WEBSTER
1916 - 1922
ROBERT SANDS
1925
VICTOR C. MALLOWS
1929
GEORGE JOHN TAYLOR
1933
ARTHUR LEOPOLD ARUNDEL
1937
FREDERICK KING
by 1949
HORACE GREEVES
26.10.1953
to closure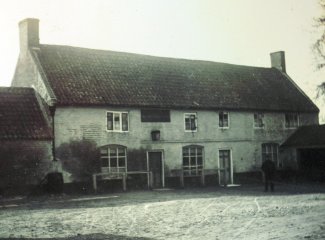 1897 image from the collection of the late Percy Rush.
Shown with permission

Shown on Bryant's 1826 map.
Lot No. 50 in sale of Bircham & Sons Reepham Brewery , Saturday 8th June 1878. Then let to John Burcham at an annual rent of £15.
Said to be positioned near junction of roads, containing :-
Tap Room with room behind, Upland cellar, Bar, Wash House, Pantry, Large Club Room with moveable partition, 7 Bedrooms, Open Cart Lodge next to road, Detached Wash House, Stable, Yard with range of buildings, comprising Blacksmiths Shop, Coach House, Stabling & Loose Boxes, Large Garden in rear: An Allotment to the Common included. - Freehold - Purchased by Steward.

Closure agreed at the First Joint Committee Meeting of Bullards and S&P 29.05.1962.
Sales reported as 28 barrels.
Last licence surrendered at 1964 Licence Sessions