Licensees :
-
JOHN JOHNVORU (?)
1794
-
-
JAMES FLOWERDAY
& cooper & victualler
1836
WILLIAM MASON
1841
THOMAS MILES FENN
1845 - 1865
DAVID DANIEL BILLHAM
1869 - 1883
EDWARD GARRETT
Age 32 in 1891
1888 - 1891
EDWARD GARRETT junior
& wholesale & retail wine & spirit merchant
1892 - 1908
GEORGE BAKER
by August 1908 - 1910
GEORGE HENRY MEAD
1912
HENRY WILLIAM HAMMOND
1916
JAMES BANHAM
by 02.1928
ROSANNA SOUTHGATE
04.04.1938
EVA MARION LAKE
01.01.1945
WILLIAM BASIL CURTIS
(undated - by 1967)
to at least 1974
BARRY & MARGARET LEECH
(Leach?)
to c1995
BRIAN STRATFORD
c1995 - c1998
LEANNE & KEITH WISEMAN
c1998 - c2000
ANDREW MARSH &
ANN MARLOW
2000 - c2003
JAMES FLEMING
by 2003
BEN & ELAINE DUNCAN
January 2005 -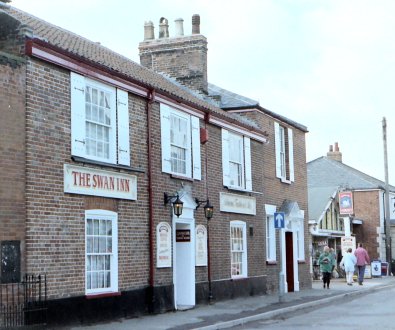 October 1997

Advertised as a Family & Commercial Hotel & Posting House.

Lot no. 55 in sale by auction 14th to 17th September 1841 of the Coltishall Brewery. Sold to Sir E. Lacon & Co. for the sum of £800.

Said to have been the scene of a riot when some declared `The Stalham Savages' gnawed the paint off the door.

In 1856 it was recorded as .......
Commercial Hotel & billiard room, and agent for the Norfolk Farmers Cattle Insurance Office, also the Accidental and Casualty Insurance Office.

Described in 1876 as:-
`With Yard and 2 Stables thereto belonging. Copyhold to the Manor of Stalham Hall with Brunstead, Parkers & Walshams.
Fine Certain 9d, Quit Rent 1/2d.
Upwards of £240 have been recently laid out in re-building and making alterations to the house, which is a most complete model for a public house.'

Peter Powell Brunstead paid Edward Garrett the sum of £1/4/- for 6 bottles of Sandemans 1890 vintage port January 4th 1901.

All the Valuable Household Furniture were for Sale by Auction Tuesday 7th April 1908, at the instruction of Mr. Edward Garrett who was leaving the house.
Apart from the usual furniture, including the contents of seven bedrooms, there were two brougham horses, carriages and harness; Also about three tons of `up to date' potatoes.

Image by Steve Shaw 1993