Licensees :
-
CHARLES LAYTON
1820
RICHARD GOSTLING
age 63 in 1851
1835 - *1851
CHRISTMAS FRANCIS
1854 - 1856
ROBERT FRANCIS
1858 - 1871
EDWARD BROWN
& corn merchant
& fishing boat & ferry proprietor
1875 - 1890
GEORGE FISHER
1891 - 1896
CHARLES TOWSER
1900
GEORGE GRIMSELL
1904
Mrs E GRIMSELL
1908
ALBERT CHARLES GODWIN
1912
WILLIAM EMMS
1915
SAMUEL CHARLES GIBBS
1916
WILLIAM JOSEPH BREACH
by 1937
to 1938
HARRY LAST
1938 - 1973
DAVID & BETTY PUGH
1975
.
GEORGE & NATALIE LINDER
March .2010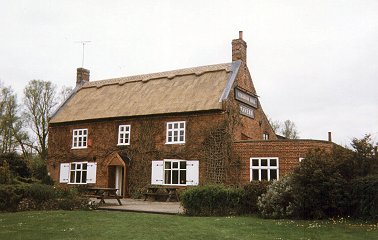 May 1996

Described as a well-accustomed Drawing House with Five Acres of Meadow Land when advertised For Sale, July 1743.

Offered for sale by auction on 5th July 1819.
A FREEHOLD ESTATE, at Surlingham, in the county of Norfolk; comprising a Messuage and Public House, called COLDHAM HALL, with the yards, gardens, granaries, coal-bins, convenient stables, and other useful and convenient outbuildings and several pieces of meadow land, containing together about four acres, more or less.
The premises are well calculated for mercantile men, being contiguous to the navigable river from Norwich to Yarmouth, and extensive business in the corn and coal trade has been carried on by the former occupiers thereof for many years.
Immediate possession may be had and the only outgoing is the Land-tax.
For further particulars apply to the proprietor, Mr John Howsham, Sprowston, near Norwich, or at the Office of Grand and Staff, Solicitors, Norwich. The estate may be viewed on application as above.

~

Offered TO BE LET July & August 1820.
Public House with yards, gardens, granaries, coal bins, stables and other outbuildings and several pieces of meadow, the whole comprising 3.5 acres. - Enquire of Tompson's Brewery

Richard Gostling announced 28th March 1835, that since he had entered into the house he had made improvements to the House and Premises and assured those that gave him Support that he would offer his utmost exertions to promote their comfort. Fishing Parties would find every requisite Accommodation.

At the Annual Regatta held here Monday 4th August 1851, Mr. Gostling announced that Dinner would be served in the Committee's Marquee immediately after the conclusion of the sailing. Tickets, to be had at the Bar would cost 2s 6d each.

On Thursday 3rd May 1855, the copper fastened Pleasure Cutter, the `Kathleen', 24 feet on the Ram and of 6 tons, in excellent condition, was offered for sale by auction by the Proprietor. (Christmas Francis)

Offered To Let March 1874, with early occupation, since the occupier was leaving for America.
Apply Messrs. Morgans & Co., King street Old Brewery, Norwich.


Sales for 1960 were :-
96 barrels of beer
73 spirits.

No change recommended at the First Joint Committee Meeting of Bullards and Steward & Patteson 29th May 1962.
Sales reported as 112 barrels.

New facilities and enlarged bar advertised 1974

Closed December 2008 - Reopened March 2010