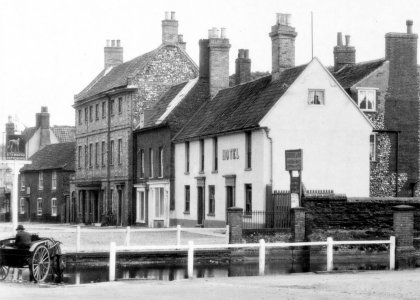 c1920
Offered to let from Michaelmas 1808 along with three acres of pasture land belonging. In full trade, much frequented by commercial travellers, the premises would be shown by the tenant upon application to Messrs. Blackbourne & Bonner, at Lynn.
The Fakenham Provident Society collected their Quarterly Subscriptions here Thursday 8th February 1816.
Mr. William Okins of Maidstone, Kent, married Mary Rust, eldest daughter of Michael Rust, April 1827.
1st December 1842 - Mr Michael Rust informed his friends and the public of his thanks for their past custom and recommended his successor, William Andrews.
Mr. Andrews, having entered the Inn, solicited the favours of his friends and the public for the continuance of patronage so long conferred upon his predecessor, which `it will be his constant study to merit..... N.B. Families supplied with Fine Home Brewed Ale and Table Beer.'
Offered To Let May 1845 with possession from from Michaelmas, along with about Ten Acres of Arable and Pasture Land. Including Brewery, Weighing Bridge, Piggeries, Stables, Barn, &c., &c.
Offered To Let August 1847 - Free of Maltster and Spirit Merchant.
With Brewery and eight coomb tub, Store-room, excellent arched Cellars for holding 150 barrels of ale, Weighbridge, Piggeries, Yard (In which the Cattle Market is Held) Stables, Barn, &c thereto belonging.
For Sale by Auction Thursday 23rd June 1853 including attached Brewery. With a large Dining-room 35ft 9in by 13ft 9in back parlour, bar, front and back kitchens, etc. The Weighing Machine, recently fitted up, being the only one in town.
Advertised August and September 1857 to be Sold or Let.
In occupation of Mr. W. Johnson with Possession from Michaelmas.
For Sale by Auction Monday 20th February 1865 by order of the Executors of the late Mr William Johnson.
In occupation of Mrs Johnson, widow, and Possession to be had 6th April 1865.
<seemingly there were no buyers>

The Executors and Trustees of the late William Johnson ordered the sale by auction, Thursday 24th August 1865 of the Greyhound and a four-roomed Cottage, lately erected, next the Yard and fronting the Street. Premises included Brewery, Store-room, very extensive Stabling, Coach-house, Granaries and other useful outbuildings. The Yard, used for many years to hold the Pig Market, having a newly-fixed Weighbridge, upon the best principle, belonging to the Property.
The Inn having a very extensive frontage next the Market Place and containing, Wine, Spirit and Beer Cellars underground, a Bar, Bar Parlour, Kitchen, two Front Parlours, back Kitchen and Store-room on the ground floor; a large Dining-room with partition and five good Bed-rooms on the first floor; and six large Attics, used as Bed-rooms, over. In the occupation of Mrs Johnson, widow, Possession to be had from 11th October 1865.
All the household Furniture and Effects of the late William Johnson were offered for sale in October 1865.
The Excellent Brewing Plant, late the property of Mr. William Johnson, deceased, was offered for Sale by Auction, Wednesday 22nd November 1865.
Comprising a capital brewing copper of about 250 gallons, tap, pipe, 2 pumps, topbeck, mash-tub with iron bottom, 2 beer coolers, 12 guilds, 2 underbecks, taps, 3 tubs, funnels, yeast pails, jet, 2 tunning pipes, 24 barrels, 5 half barrels, 35 quarter casks, 27 from 4
½
to 6 gallon casks, ale stools, slides, slings, rope, mallet, 3 tilters, &c.
To Let December 1866 - Apply to Steward, Patteson, Finch & Co., Norwich.
The Old-established Inn, offered To Let, February, March and again April 1892.
Offered To Let with Early Possession 21st September 1895.
` Cattle Market held weekly on the Premises.'
Apply Messrs. Steward & Patteson.