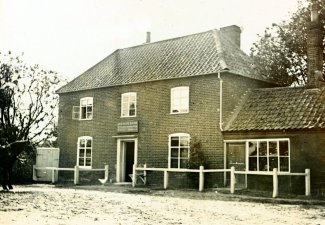 1897 image from the collection of the late Percy Rush.
Shown with permission

Offered for sale by auction 10th September 1866
by order of the trustees of the late Mr S M Dye.
All that building of brick and tile comprising
5 sleeping rooms, 5 rooms on the ground floor and
excellent cellar, Slaughterhouse, Stable, Gig House and
other convenient buildings, and about 2 acres of Orchard,
and Arable Land. In the occupation of Messrs Cann & Co
or their undertenant, in which an excellent trade in Beer & Spirits
has been carried on for many years.

Sold for £550 to Mr Alexander Francis Campbell of Gt Plumstead.

Closure was proposed at the First joint Committee Meeting of Bullards and S&P 29th May 1962. It was agreed subject to inspection by Mr. L. Canham.
Sales were given as 41 barrels.
8 barrels of beer sold in the final year of trading.