Licensees :
-
-
THOMAS WISEMAN senior
1789 - 1798
THOMAS WISEMAN junior
& brickmaker
*1836 - 1841
JOHN LEATHERDALE
See opposite
19.05.1845 - 1846
JAMES SPARROW
(age 29 in 1851)
1850 - * 1853
JAMES PORTER
1854 - * 1861
Convicted September 1861 of keeping house open during the hours of divine service.
SAMUEL JONES
29.09.1861
JULE ANN JONES
29.09.1862
JONATHAN WILGRESS
according to Harrod
1863
JOHN JOHN
11.10.1863
ALFRED HOWES
06.03.1876
WILLIAM ALLEN
29.08.1881
JOHN BETTS
12.11.1888
GEORGE HENRY WRIGHT
16.03.1891
ERNEST BULLARD
24.02.1896
THOMAS SKIPPER
04.05.1896
WALTER ALFRED CURTIS
15.11.1897
WILLIAM SMITH
11.05.1903
GEORGE CHRISTMAS SMITH
(Temporary transfer from William Smith made Monday 22nd November 1909)
17.01.1910
ROBERT SARGENT
15.01.1912
CHARLES HENRY COBB
04.11.1912
ELLEN COBB
04.11.1912
AARON JAMES SMITH
17.11.1913
ARTHUR GAYTON
10.09.1917
SAMUEL WILLGRESS
10.11.1924
Fine £1 for permitting drunkenness 25.05.1927
PERCY ALLEN SMITH
10.04.1928
ARNOLD FRANK TWITE
27.11.1933
HECTOR ROWLAND MALLETT
26.09.1938
ARTHUR ROBERT ALLEN
09.04.1951
SAMUEL GEORGE WILLGRESS
06.09.1954
HORACE WILLIAM AMISS
28.05.1956
-
... GOODLEY
c1962
MARY GOODLEY
(Mary & Les Goodley 1967)
1967 to 1972
RAY NORMAN (Winkle)
from October 1972
to retirement 04.2010
AMANDA STIRLING
by July 2013
JO ALDRIDGE
general manager
by 2018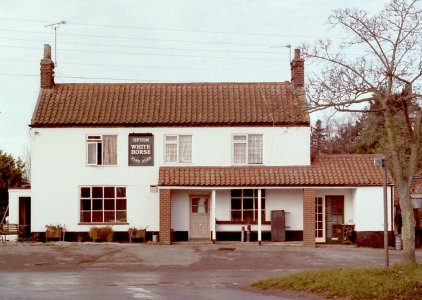 November 1992

Recorded in Blofield, Taverham & Walsham Hundreds Register dated 9th September 1789.

Not mentioned in 1796 sale of Coltishall Brewery properties, then in the ownership of Mr Chapman Ives.

Property owned by Mr Siday Hawes of the Coltishall Brewery in 1798 & 1802.
(He died in 1828)

Lot 34 in sale of Coltishall Brewery properties 14th to 17th September 1841.
Sale by order of the executors of the late Robert Hawes Esq.
Copyhold sold to Mr. Adam Waters for the sum of £420.

~
Described 1841 as recently rebuilt and in an excellent state of repair.
Containing good kitchen, Parlor, Bar with Cellar under, back Kitchen, Pantry, and six Bed-rooms. Complete with Forecourt, brick and tile Barn and Stable, Cattle Shed, Yard, Garden, and a Piece of excellent Arable Land, the whole containing 1a 0r 37p.
Copyhold to the Manor of Beighton in Upton.

~

On Wednesday 8th October 1845 John Leatherdale took an action against the Magistrates of the Blofield Hundred for refusing to renew his licence. At the last licensing day, his renewal had been refused since it was claimed that he had swindled a man of £10 and was not a fit person to have a public house.
The appellant had taken the house on 19th May last and the said swindle was said to have taken place at some time after that. For Mr. Leatherdale it was said the money was only a stake held by him on behalf of two other parties and in any event £7 had been returned to the person who made the original accusation.
Mr. Leatherdale had previously run a similar house in Norwich and there had never been a complaint against him. (SHIREHALL then YORK TAVERN)
The magistrates who had not been involved in the original decision agreed that the appeal must be allowed and costs of 40s were awarded to Mr. Leatherdale.

~

Samuel Jones took the Magistrates of Blofield Hundred to court at the Norfolk Quarter Sessions on Wednesday 1st January 1862.
Mr Jones had been refused a licence on two previous occasions, the last being 18th November 1861. The Magistrates had refused the licence with no reason given.
Mr Jones had taken on the house at Michaelmas 1861 but had been unable to trade since that date. He had hired the house from the owner, Mr. Waters, for seven years at £30 a year.
Although the previous licensee had omitted to renew his licence, the representatives said that was no reason to refuse a house licensed since time immemorial.
During the hearing it was disclosed that Samuel Jones was a farm labourer and could neither read or write. His wife could read, but not write. He had been offered the house when his son-in-law had been refused by the magistrates. (See PRINCE OF WALES) As a team-man he had been earning 11 or 12s a week.
He was aware that with the spirit licence he would have to keep a `spirit book' but would get somebody to keep it for him.
It had also been said that the landlord, Mr Waters, was a drunken and dissolute character and it would not be right to licence the house to a man who, although respectable and of good character, had no education and would be a mere instrument in the hands of the house owner. According to the magistrates, the most disgraceful scenes occurred in this house during the time of the previous tenant.
One supporter of Mr. Jones, an inhabitant of Upton for thirty years, said the house had always been respectfully conducted and the previous tenant had his licence renewed for eight years in succession without complaint. He had not heard that Mr. Waters had got drunk in the house and broke windows.
Mr. Waters was not the owner of the house during the lease of the previous licensee, Mr. Porter.

After much discussion the licence was granted and the respondents' costs were to be paid by the County Treasurer.

~

A Community Interested Company from July 2012. Run by a village committee gaining almost £200,000 in grants and raising £115,000 from selling shares to 170+ villagers in order to purchase the premises over a five year term.