Licensees :
-
JOHN JORDAN
here 06.1781 - 1794
-
JOHN RANDALL
Died 14th July 1806
(Will dated 28th July 1906, had been dictated Saturday 12th July 1806)
to July 1806
-
WILLIAM LEE
1836 - 1839
WILLIAM BILHAM
1845
RICHARD BILHAM
age 62 in 1851
& basket maker
1846 - 1858
EDWARD WEGG
1861 - 1864
WILLIAM WEGG
1865
THOMAS MEDLER
1868
JABEZ CRACK
(also as Jubey Crack)
Age 21 in 1871
1871 - 1875
JOHN COE
by 1877
JOHN STEWARD
13.11.1880
SAMUEL FISKE
17.11.1883
GEORGIANNA FISKE
(Wife of Samuel. Daughter Audrey married Robert Whisker)
13.12.1915
ROBERT JAMES WISKER
30.09.1921
JAMES BISSETT WILL
14.10.1938
to 1964
-
CHARLES CLARKE
to 1998
DOROTHY & DENNIS CLARKE
1998 -
JOHN OLSEN
03.10.2000
-SANDY & BERNI .....
2009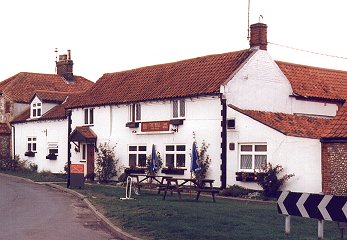 1987

A late 14thC building.

Generally known as the BELL

Lot No. III in sale of Estate of the late Henry Hagon, Wednesday 4th July 1781. Then in occupation of John Jordan at an annual rent of £6 10s.

Reopened as a freehouse and rated as `Deservedly popular' in a 1976 guide book.
A Jaguar car engine was installed in one of the fireplaces by licensee Charles Clarke. The engine was sometimes demonstrated to be in full working order.

Beers with Jaguar related names were brewed for the house by Scott's of Lowestoft. (Brewery closed 1999)

Charles Clarke was reported missing, presumed dead following a boating accident off Blakeney 12.05.1998.