Licensees :
-
ROBERT RICHES (senior ?)
1810
ROBERT RICHES
age 40 in 1841
1830 - 1846
SAMUEL HINCHLEY
Previously at Hingham DOG
(Died in London, 23rd April 1866 - age 74)
1850 - 1854
JOHN SMITH GAPP
1856
ISAAC A BRAY
1858 - 1859
THOMAS RICHES
1864 - 1865
Licence renewed Tuesday 29th August 1865 upon the Chief Constable giving testimonial to the excellent character of Mr. Riches. See opposite.
GEORGE PEACOCK
by 1867
SARAH PEACOCK
10.10.1894
JABEZ CHARLES BIRCH
07.05.1901
SAMUEL SYDER
18.03.1902
GEORGE THOMAS SMITH
01.09.1903
ARTHUR CHETTLEBURGH
08.01.1924
Convicted 10.07.1928 of selling out of hours.
Fine £2 or 21 days detention.
FREDERICK LEGGETT COBB
08.10.1929
PERCY JOHN ALBERT GIBSON
15.10.1935
BERTRAM STANLEY PEASE
05.04.1952
DONALD FREDERICK HALE
04.07.1953
ALFRED EDWARD STEWARD
(and wife Emily)
12.05.1959
COLIN TREVOR MANN
13.10.1970
GEORGE CHARLTON HODGE &
SYDNEY JAMES WABY
25.11.1975
-
ROGER & ANTHEA CAWDRON
1986 - 1995
VIC HINGLEY
from 1995
JOANNA SHARP &
MATTHEW ROBERT GURNEY
16.11.1999
KRISTINA EDWARDS
13.06.2000
LISA BRESLIN
10.10.2000
CARL FISHER
December 2007
JAMES SANDERS &
JAMES WRIGHT
(JANE DOWE manager)
by 12.2009
GALE & ANDY CADEY
(Also at Rockland St. Mary New Inn)
November 2013
ROSE HANNISON
November 2015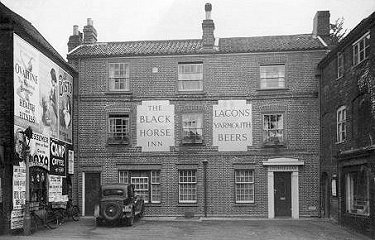 28.07.1937
Image by George Plunkett - shown by permission - Copyright © G.A.F.Plunkett 2002

Built 1714.

Robert Riches is given at St. Giles Broad Street in 1810, as is Robert Stimpson. It is assumed the latter was at 23 St Giles.

At the Licensing Sessions held August 1865 it was heard that two magistrates had asked that the licence be fully discussed owing to several complaints being received from the rector and curate of Heigham and a number of respectable inhabitants.
Licence refusal was asked for since vice and immorality prevailed in the gardens to the rear of the property. There was a great nuisance, especially on Sunday evenings when boys and girls were allowed to congregate together. It was said that on the Sunday of Assize Week, the gardens had been illuminated by variegated lamps and dissolving views were exhibited and disgraceful proceedings allowed. There were also Oyster stalls.
It was heard that on Assize Week the garden had been hired by a Mr. Batchelder and Mr. Riches had no control over the events.
The dissolving views were of a scriptural nature so objections had been waived.
There was a memorial signed by thirty persons in favour of Mr. Riches and the Chief Constable said that Thomas Riches had an excellent character.
It was heard that in his time and that of his father before him for 60 years, there had been no previous complaints.
The licence was granted under the assurance that the gardens would not be let out in such a manner again.

Named the OLD BLACK HORSE at St. Giles Road
in 1830, 1879 & 1892.

The will of George Peacock was proved 24th September 1884.
The sole heirs were his wife Sarah and sons George William Peacock and Ellis Peacock.


£350,000 refurbishment by Punch Taverns reported November 2015.