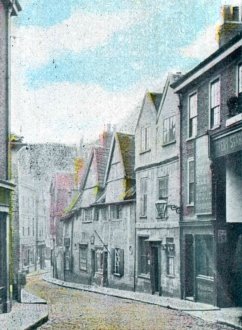 The Canterbury c1910 - Extreme right.
The entrance to livery stables is just in view.
A licence was granted to Thomas Foulsham on Tuesday 4th September 1860. The name of the new house was reported to be the
VOLUNTEER
, but this apparently soon changed to the
CANTERBURY
.
Location described as between Mr. Bedingfield's Livery Stables and Mr. Mackley's on Westlegate.
Given as the
CANTERBURY CONCERT HALL
in 1868
&
CANTERBURY HALL
in 1862 & 1890.
Also referenced as at All Saints Parish.
Licence renewed at Sessions held 19th August 1862.
One of several houses where the licensee had been proceeded against during the year. The offences, for which summonses had been issued were either for selling beer out of hours, for allowing gambling or for permitting persons of bad character to assemble.
Spirit licence dropped 1894 when house taken over by Morgans Brewery.
Licence provisionally refused 05.02.1924 and referred to Compensation.
Closed under Compensation 20.12.1924.