Licensees :
JOHN RUGGLES
(Listed at the house in 1900 directory)
12.11.1901
MINNIE RUGGLES
23.07.1907
WILLIAM GEORGE BROWN
26.11.1907
ROSE PRISCILLA BROWN
01.12.1908
THERESA MAY CRICK
(Married James Crane Watson 1911)
23.08.1910
THERESA MAY WATSON
30.06.1911
ARTHUR WELLINGTON EVERETT
08.10.1912
WILLIAM JOHN YOUNG
26.11.1912
EDITH ROSE YOUNG
17.07.1917
EDITH ROSE ALLSOPP
04.1918
Convicted 20.04.1927 of failing to admit the police.
WILLIAM HENRY NEWSTEAD
19.07.1927
HERBERT SPALDING
17.11.1936
JOHN HENRY DORRINGTON
06.07.1948
KENNETH LAWS
08.03.1955
DAVID WILLIAM WHITEMAN
21.08.1956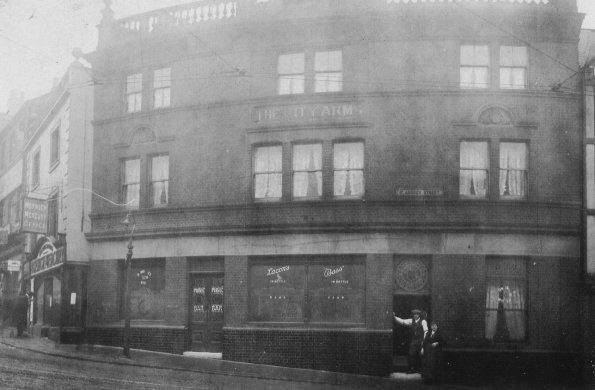 c1920
The site of the
CABINETMAKERS ARMS
1822 to c1899.
Both the CABINETMAKERS and the former CITY ARMS at St. Andrews were demolished c1899 to allow tram access.
The name of the CITY ARMS moved to the new premises.

Licence removed to the SHRUB HOUSE 12.03.1957.

Demolished 1958 to allow erection of the Eastern Counties Newspaper building.