Licensees :
-
-
HENRY CHAMBERLAIN
1789 - 1794
-
-
GEORGE GRANT
1830 - 1836
JOHN MACE
1846
HENRY SOUTHGATE
age 43 in 1851
1850 - 1864
JOHN RAYNER Senior
1865 - 1868
GEORGE R. LOWNE
by 1869
Convicted 18.04.1887 of selling out of hours.
Fine £1 plus 18/6d costs or 1 month in detention.
CAROLINE MARIA LOWNE
15.07.1896
JOHN PLANE
16.11.1896
CHARLES EDWARD FOX
20.11.1916
CECIL FOX
10.11.1924
AUDREY FOX
09.07.1956
MATTHEW O'MAHONY
04.02.1957 - 1983
-
TERRY & GWEN CAVANAGH
1987 - 1997+
JOHN HARRIS
c2001 - 2003
MATTHEW HARRIS
2003 - 09. 2011
Closed for refurbishment September to 9th December 2011
DAWN BAILLIE
(also at BOUNDARY & joint licensee at WALNUT TREE SHADES)
(09) -2011
Closed November - December 2012
SIMON BENNETT-BENNETT &
MARIANA POPONETE
Jan 2013
-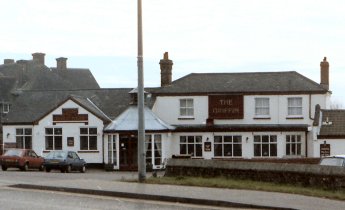 February 1998

Recorded as the GRIFFON in Register of Blofield, Taverham & Walsham Hundred licensed houses taken 9th September 1789.

The GRIFFIN & PLEASURE GARDENS 1888.

GUNGA DINS OLD COLONIAL HOUSE from 10th September 1984 - 1986

HUNGRY FOX 6th June 1986 - 1987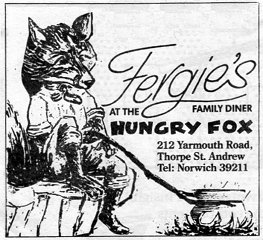 The GRIFFIN again from 19th November 1987


Closed towards end of 2012 destined to re-open 2013 as a `Spanish tapas themed restaurant and bar'.
Closed 2015.
Offered for sale April 2017 by Ei Partnership (Enterprise Inns)
Declared an Asset of Community Value by April 2017.
(Link still working March 2019)

John Harris (58) was tragically killed Monday 7th July 2003.
He also ran a coach business and was fatally injured by an accident in the adjoining car park, involving one of his coaches.