Licensees :
JOHN SHIRLEY
(also found as STURLEY)
1760 - 1798
WILLIAM COLLS
1802
DANIEL RAYTON (?)
June 1804
SAMUEL COOKE
1807 - March 1808
............. DREWELL
1810
F. DAMANT
1811
JOHN HOWSHAM
previously at the CROWN & ANCHOR
02.1813
SAMUEL KING
1830
JOHN LEEDS
1833
ROBERT CURTIS
1836 - 1839
ROBERT BASEY
& cordwainer
1839 - 1856
WILLIAM CUSHION
to 08.1858
JOHN BARKER
23.08.1858
JOHN MIDDLETON
& weaver
by 1859
ROBERT MARSHALL
& fish market
05.11.1867
THOMAS REACH
22.12.1870
WILLIAM LEACH
28.06.1871
EPHRAIM LARGE
28.06.1872
ARTHUR DUNN
19.02.1873
JAMES THOMPSON
29.06.1875
GEORGE RAMSBOTTOM
07.05.1901
CHARLES NIXON
05.04.1904
Convicted 25.02.1916 of keeping open out of hours.
Fine £1 or 13 days detention
MARY ANN NIXON
15.10.1935
WALTER BAILEY KEELER
20.11.1951
CHARLES DOUGLAS SKIPPER
18.11.1952
HORACE SIDNEY HARE
17.11.1953
JOHN GREGORY LAWRENCE
05.04.1957
.
PAUL CORNWELL
07.1975 - 1978
.
ROLAND COOMBER & JONATHAN SMITH
05.2005
STEPHEN GEORGE
2013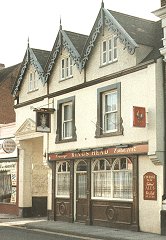 1997
The Norfolk Chronicle reported...
Norwich, December 16th 1783.
At a Meeting of the Yarn-makers held here this day, it was unanimously agreed to call a general Meeting of the Trade, residing in the City of Norwich and County of Norfolk, to be held at the KING'S HEAD in Magdalen Street, on Friday the January 2nd next, at Six o'clock in the Evening, in order to consider how far it may be right to act in Conjunction with the County of Suffolk, etc in obtaining a Bill in Parliament for the better Regulation of Yarns.


The house was engaged for Freeholders, the Friends of Sir Edward Astley, Bart. and Thomas William Coke, Esq. on Wednesday 14th April 1784, being the Day of Election. (One of 53 such houses in Norwich)


The entrance to the courtyard has an emblem
`The Crown Brewery'
Address as 116 Magdalen Street in 1802

Advertised for let 21st April 1804.
Furniture & fixtures could be taken at fair appraisement.
`Apply Brewing-office, Pockthorpe'.
One of 36 Norwich houses opened for the reception of Voters in the interest of Mr. Windham and Mr. Coke on election day, Thursday 13th November 1806.


19th September 1807 - Samuel Cooke advised the public that he had refitted the inn for gentlemen and travellers. He was declared bankrupt as reported March 1808.

At the licensing session held Monday 23rd August 1858 John Barker obtained a renewal of licence, in place of William Cushion.

Closed 2004.
Extensively renovated to re-open
May 20th 2005
Selling beer from some 14 handpumps and
on gravity. Bottled Belgian beers and NO kegs.