August 1998
A former Merchants House dating from the 16thC.
A former occupant, Alexander Thurston, (a grocer) became Freeman of Norwich 1575, Sherriff 1587-8, Alderman 1589, Mayor in 1600 and Member of Parliament in 1601. His initials are on corbel at west end gable.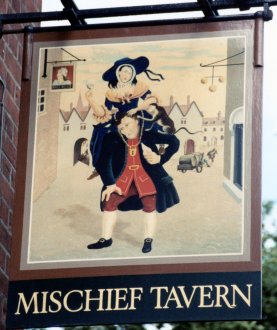 The sign was based upon a painting by Hogarth.
It was replaced in late 1990's by a modern depiction of a boy with catapult.
Carter, Steward & Co's
WINE VAULTS
by 1890's to 1962.