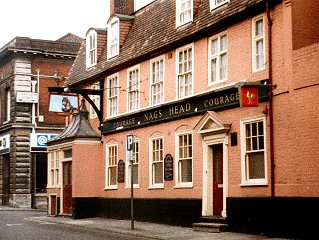 1990
Originally sited at 33 Crown Road with address also as Castle Meadow.
Robert Baxter applied for a (full) licence Tuesday 26th August 1867 - Refused
On Tuesday 25th August 1868 it was heard that there had been no complaint against Mr. Baxter and the magistrates granted a (full) licence.
Location then given as almost adjoining the
COCK
.
It appears that this licence was soon lost since Mr. Baxter applied again Tuesday 23rd August 1870.
It was said that he had kept the place as a beerhouse for four years without any complaint. A memorial had been signed by farmers and dealers who used the house on Saturdays, urging the request. The bench refused the application.
Part of Lot No. 26 (of 27) in a sale of properties held Tuesday 14th November 1871, following the bankruptcy of Messrs. Harvey & Hudson. Then in occupation of Mr. Baxter, undertenant of Messrs. Bullard and Sons, as yearly tenants - £30 per annum rent.
Licence from the
TWO BREWERS
, Maddermarket removed to this house following Magistrates meeting of 10th August 1873.
Licence upgraded from Beerhouse to Full.
Address as 33 Castle Meadow 1888 & 1896 .
Relocated at King Street by 1900