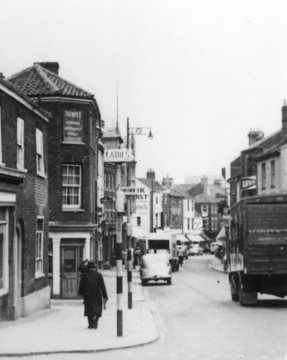 c1958
Stood on the corner of St. Stephens Street and Coburg street.
The house was engaged for Freeholders, the Friends of Sir Edward Astley, Bart. and Thomas William Coke, Esq. on Wednesday 14th April 1784, being the Day of Election. (One of 53 such houses in Norwich)
The Norfolk Chronicle of 10th February 1906 reported that the Chief Constable objected to licence renewal on the grounds that the premises had back doors that opened into closed yards, common to other premises. It was agreed that should alterations be started or complete by the time of the adjourned Brewster sessions, then the objection would be withdrawn.
Damaged by enemy action 27/29.04.1942.
House demolished in 1960's redevelopment scheme.
Rebuilt by 1964.

Renamed SWIFTS 1983.
Closed March 1989.







House No. 99 on 1845 Magistrates list.





See page 38 of `Norwich in Old Postcards Vol 1' published 1988