1984.
George Kew, formerly of the
VINE
was said to be insolvent at the hearing Monday 21st March 1842. He had however been accused of removing goods in December 1841, prior to his insolvency being announced. He was warned by the Commissioner that if any property, secreted away, should be found, then he would be liable to three years' imprisonment. He was remanded for four months from the date of the vesting order.
The smallest pub in Norwich.
.... and the last gem....to 2006.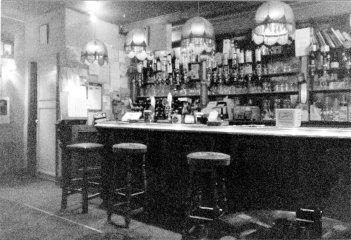 c1984
Zinc topped bar stripped out and new
servery repositioned along back wall by 2008
In CAMRA Good Beer Guide 2011



Plenty of room for confusion department. (1845 - 1868)

The house appears to have been named the ALBERT or PRINCE ALBERT
c1846 to c1861

~
Rose Garnham is named at the VINE in 1842
Walter Roper, given at the VINE by White in 1845, seems to have been succeeded that year by.......
Thomas Daniels who is given at the VINE in
1845 (Magistrates) and in 1856 (Craven) , but at the ALBERT TAVERN in 1846 (Post Office), 1854 (White) and 1858 (Post Office).
He is at the PRINCE ALBERT TAVERN in the 1861 census.
Mary Daniels is named at the VINE from at least 1864.

The 1851 census suggests that John Scrivens (age 64) innkeeper, is at this address and Thomas Daniels is two doors away (Towards Market) and is a 41 year old Tailor.


.......and then we get to the GRAPES.
Different licensees are given up to 1854, suggesting 2 separate houses, BUT in 1865 and 1868 Mary Ann Daniels is named at the GRAPES. Was she running two premises? In 1877 a J. Betts is given at the GRAPES - apparently an error for T Betts.
(Note : The Licence Registers give no mention of a house called the Grapes in this locality from 1867)
House No. 153 on 1845 Magistrates list.