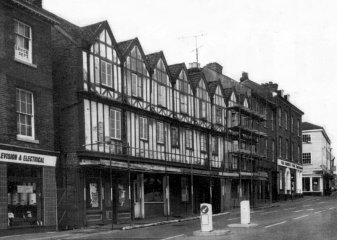 Ancient buildings (said to date from 1560) including the White Horse,
awaiting demolition 1969.
Address as Wymer Street 1810
Location 1845 as `Near the Museum '.
Recorded (in error ?) under White Hart 1850 & 1852
Edward Stubbs was fined 17th June 1857 for having caused a nuisance by removing manure and offensive matter at an unreasonable hour. A quantity of soil had been removed from the stables of the
UNICORN
by James Cutting, an employee of Stubbs, at between 10 and 11 on the morning of 4th June. Although William Amis, who assisted in loading the waggon, said he smelt nothing, a Mr. Bardwell said he had visited the yard to find the whole atmosphere of the locality pervaded by a very offensive odour. Cutting said that afterwards, he had gone to three other places to make up the load.
As the
OLD WHITE HORSE
1890.
Licence provisionally refused 09.02.1906 and referred to Compensation.
Closed under compensation 29.01.1910.
This ancient timbered house was demolished in 1969 to make way for a pre-fabricated building subsequently used as a bank. This in turn was demolished by the 1980's and the site still derelict 2002. Accommodation built on site by 2010.