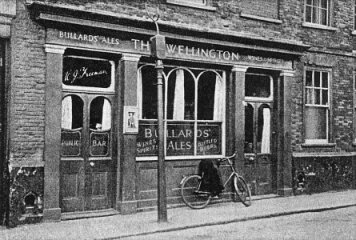 c1952
Also given as the
WELLINGTON TAVERN
.
Location given as near Alms Lane in 1845.
On Sunday 3rd September 1863, Sergeant Smith was passing the house at about a quarter to one o'clock in the morning and saw three men standing at the bar with glasses of beer. Upon warning the licensee that the house should have closed he was offered a glass of beer, which he refused. The three men drank up and left but created a great disturbance outside and called the policeman a b***** tea-totaller and an enemy to publicans. Hearing that Mr. Willis had kept the house for twelve months without a complaint, he was only fined 1s and costs.
Bullards advised by a letter dated 18th May 1962 that the house would close for trading on the terminal hour of 30th April 1962.