Licensees :
-
JAMES FOULSHAM
1794
-
ROBERT HUBBARD
1822 - 1830
JAMES ROLFE
1836 - 1839
JOHN BURCHAM
age 58 in 1851
& butcher
1845 - 1858
SAMUEL GOOCH
& carrier & farmer
1861 - 1877
JESSE BUTTLE
& master bricklayer
*1881
EDWARD WILLIAM HOWES
*1888
WILLIAM EDWARD HOWES
& groom
1890 - 1895
JOHN DOVE
*1896
HENRY DOVE
1900 - 1909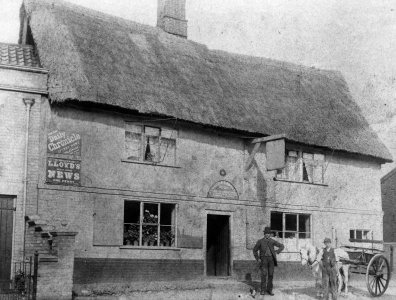 William Howes at the door 1895.

Left by landowner Thomas Randall to his grandsons in 1738, one of several houses in his estate.

A carriers service to Norwich was run by Samuel Gooch
3 times a week.

Advertised To Be Let, February 1861.
Including two good Granaries, stable, good Gig-house and Piggeries.
Apply at the Counting House of Messrs. Cann & Clarke, Wymondham.

In the early 1900's the K-NUTS Boxing Club was housed here.
Run by the Reverend Gilbert H. Bartlett.


Licence refused at Compensation Authority meetings of 21st and 23rd June 1909.
Reported as an alehouse, owned by Morgans Brewery Co. and run by licensee Henry Dove

After closure the property was used by William Carter for his wood turning business.
(He was one of the last craftsmen to make brushes).

After 1945 the house became a private dwelling.