Licensees :
-
ROBERT LACKFORD
1740's to 1747
Mrs ELIZABETH WRIGHT
(died Sunday 25th November 1781)
1748 to 1781
THOMAS RISING
(Went to THREE TUNNS, Bungay November 1792)
to 1792
EDWARD HOWLETT
1794
CHARLES SADDLER
1794
JOHN WELLS
1794
Note that three licensees are listed at KINGS HEAD, Wymondham in 1794 - could one be in error for KINGS ARMS and the other at another Forehoe location?
-
THOMAS RACKHAM
1822 - 1834
THOMAS RACKHAM junior
1836 - 1846
SARAH ANN RACKHAM
(age 34 in 1851 )
1850 - * 1851
HENRY LEE
1854
JAMES CHAPMAN
1856
HENRY MARSH HARRISON
1856 - 1858
....... MULLINGER
1861
SAMUEL MULLINGER
1864
AARON MOBBS
& postmaster
1865 - 1877
JOHN FREDERICK TILLETT
1879
JOSEPH J. MARSHALL
1881
EDWARD ALLEN
1882 - 1888
JOSEPH JOHN MARSHALL
1889 - 1898
WILLIAM JOSHUA GOFFIN
(died 1938)
1899 - 1938
MAY GOFFIN (nee Cushing)
(2nd wife of William Joshua Goffin)
1938 - c1948
BILLY GOFFIN
Youngest son of William Joshua Goffin and his first wife
Sarah Margaret - nee Abram (1864 – 1916)
c1948
to closure 1962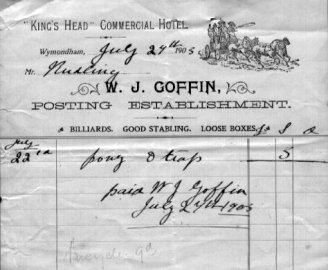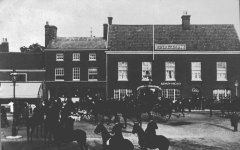 c1914
Image supplied by Philip Standley.

A 17thC coaching inn.

Sold by auction 7th June 1751 - Auction held at Dukes Head Tavern, Gt Yarmouth.

The Norfolk Chronicle of 1st December 1781 reported that on ` Sunday last died, Mrs Wright, who kept the Kings Head Inn, Wymondham, near forty years'.

Included the Excise Office in 1830.
In 1830 the coach the TELEGRAPH called daily at 8:00am on route to London. It returned every evening at 7:00pm.

80 members and friends of the Ancient Order of Foresters celebrated the 7th anniversary of the Court of Loyal Windham, No 2904, here on Thursday 19th May 1864. An excellent dinner was provided by the Host, Mr. Mullinger and several good songs were sung by the company during the very pleasant evening.

Mr Mobbs held a farewell tea on 8th March 1877.
On 10th October 1877 the excellent Household Furniture and Effects of Mr. Aaron Mobbs, were offered for sale, since he was giving up the Inn.

As the KINGS HEAD COMMERCIAL INN & POSTING HOUSE in 1879.

Offered To Let with Possession from Michaelmas 1882.
Apply Cann & Co.

With the coming of the railway, a horse bus ran from the inn to meet every passenger train.

The property included a meadow (today used by Wymondham Town Football Club) & bowling green.

A note from the Hon. Sec. F. Clements dated 5th February 1900 announces that the AGLM will be held 26th April 1900 at 8:00pm and that the green will open Wednesday next at 2:00pm, for a match to be played between two teams, selected from members present.

Morgans sales for 1960 were :-
110 barrels of beer
21 spirits.

Billy Goffin was the last licensee.

Demolished by April 1967.
Site became occupied by a Woolworths store.



See page 14 of `Wymondham in Past Times '.



Many thanks to Janelle Penney for the 1781 newspaper transcription
taken with permission, from © film provided by the
British Library Newspaper Library
Thanks also to Robert Campbell.

Further thanks to Peter Standley Sept 2007.
Peter is the great grandson of William J Goffin
and has been able to add dates for W J Goffin
and his successors.