Licensees :
EDWARD AMOND
1756 - 1780
ROBERT COOKE
1794
WILLIAM SMITH
age 60 in 1851
1822 - 1854
WILLIAM BROWNE / BROWN
(Rising Sun)
1856 - 1858
THOMAS SAMUEL WARD
(Insolvent - Order of protection granted March 1861 with exception of two debts)
c1859 - 1861
JOHN FOULSHAM
Age 46 in 1861
1861 - 1865
Fines and costs to a total of 25s on Friday 8th September 1865. See below
AMBROSE PASK HARPER
& carpenter
(William Past Harper 1875)
1869 - 1877
GEORGE WOODWARD / WOODFORD
1879 - *1881
JOHN LAIN
1883 - 1885
JOSEPH CARPENTER
1888
GEORGE CLABBURN
& carrier
1890 - 1892
Mrs WILLIAM C. GREATWOOD
1896
WILLIAM FISHER
1900
WALTER MALLETT
1904
CHARLES WILLIAM HURRELL
1908
HARRY FENNELL
1912 - 1933
H. W. RUNACRES
1937
-
John Foulsham was found guilty of an assault on bricklayer Samuel Smith.
The event had taken place at the
DUKE'S HEAD
on 21st August 1865.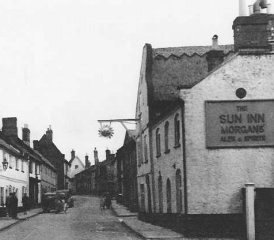 Built by early 17thC.

Also given as the

RISING SUN



Left by landowner Thomas Randall to his grandsons in 1738, one of several houses in his estate.

At least 3 Lowestoft porcelain mugs are known to exist bearing the words ` Edward Amond, The Rising Sun' and dated 1768.
(He was formerly a groom to the Earl of Buckingham).

The sign at one time was a carved & gilded image of the sun with radiating rays. (As above photograph)
This sign is known to have survived at least to the late 1970's since it was propped up against a wall in one of the rooms, then used as accommodation for students.

On Saturday 8th December 1860, Thomas Samuel Ward was described as an insolvent, out of business, unemployed and former landlord of the Rising Sun Inn. His debts were £230 1s with credits of £39 16s 3d.
(In 1858 he is given as Station Master, at Railway Station.)



See page 1 of `Wymondham in Times Past'.