Licensees :
-
Mr HARPER
July 1820
WILLIAM SNOWE
See below
c1823
BENJAMIN BOTWRIGHT
1824
DAVID GOODWIN
1830
JOHN BARNEY BALES
here May & Sept 1831
JOHN ATKINSON
Died Q1 1841
1833 - 1841
CHARLOTTE ATKINSON
1841 - 1845
Not (yet) identified 1846 - 1858
EDWARD HOLMES
1859
Fine of 2s 6d and costs on Monday 24th October 1859. See opposite
ANN ALDRIDGE widow
Age 61 in 1861
1861 - 1865
Mrs HANNAH BUSHELL
Age 55 in 1871
* 1869 - 1871
WILLIAM DENNINGTON
& carpenter
1879 - 1896
GEORGE GREEN
by 1900
HENRY FROSDICK
15.04.1904
CHARLES SAMSON ROWLAND
12.10.1906
Convicted 24.08.1906 of selling out of hours.
Fine £2 plus 16/- costs or 1 month in detention.
WILLIAM PETER NEWMAN
12.04.1907
GEORGE GREEN
22.11.1907
MARGARET BETSY SMITH
** SEE BELOW
04.06.1909
ALBERT VICTOR MANNING
13.11.1911
WILLIAM EDWARD CUBITT
21.06.1912
EMMA LILIAN CUBITT
07.01.1916
WILLIAM EDWARD CUBITT
13.06.1919
MAUD AGNES ARTIS
(undated - by 1933)
CHARLES HENRY PARMENTER
08.02.1935
SIDNEY WILLIAM BUCKLE
22.10.1940
MABEL CONSTANCE OXBOROUGH
12.12.1944
(J. H. OXBOROUGH)
(1955)
MONTAGUE WAUGH PICKINGS (Richings ?)
04.10.1955
KENNETH MONTGOMERY
24.04.1956
ROBERT THOMAS CHAPMAN
21.04.1959
RAYMOND JOHN SMITH &
ROBERT THOMAS CHAPMAN
13.02.1976
JOHN EDWARD THOMAS WOODS &
ROBERT THOMAS CHAPMAN
14.09.1978
DONALD STANLEY KIPPAX &
ROBERT THOMAS CHAPMAN
04.12.1980
-
JOHN BURROUGHS
2008
Renamed CASK & CRAFT August 2014
JOHN & JENNY BURROUGHS
August 2014
At the Norwich City Sessions held Friday 16th July 1824 it was heard that William Snowe,
previously of the Apollo Gardens
at Yarmouth, was accused of assaulting Frederic Murlin, a boy of about 15 years old. The lad had been keeping the Bishops Bridge Toll-gate on behalf of his father and claimed that Snowe had attempted to pass through without paying the half-penny toll. Upon the accusation, Snowe was claimed to have said that if he repeated it, he would be knocked down. The claim was repeated and a blow was said to have been struck. The landlord of the
MOON & STARS
and another person corroborated the young mans story.
The jury however declared that Snowe was not guilty and the Foreman added that they were of the opinion that no assault had been committed.
The Court chairman advised the jury that it was not their province to give opinion on the subject and to only give a verdict of `guilty' or `not guilty'.
The verdict was to the astonishment of all who were present.
** On Friday 24th May 1909, the licence was (temporally) transferred from George Green, with a warning not to permit gambling in any form in the house.
Name of new licensee reported to be Mrs. Margaret Green, however the licence register appears to read Mrs. Margaret Smith from 4th June 1909.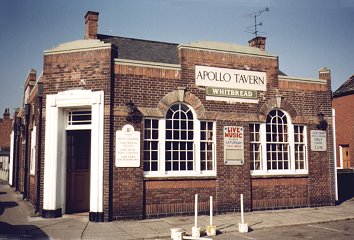 1987



Mr Harper, the new proprietor of the Apollo Gardens, was credited 20th July 1820 with having engaged the celebrated Mr. Colyer, the principal singer at the Vauxhall and that he was in treaty with a Lady of the first celebrity. The spirited exertions of the individual were trusted not to fail to attract the attentions of a generous and discerning public

.
~
Offered for sale by auction 23rd November 1826.
`All those Old-established, well-customed and licensed premises known by the name of the APOLLO GARDENS, situate near North Entrance of Great Yarmouth, consisting of a Tavern, containing five parlours and drinking-rooms, kitchen, bed-rooms, out-offices, stables, wash-house, billiard-room, drinking-arbours, capital bowling green, and gardens well planted. Leasehold to the Corporation of Great Yarmouth for a term of 19 years..... Eligibly situated for the Trade now carried on and well adapted for a School, and worth the attention of Builders from their extent and contiguity to the town of Yarmouth.'

~
Mr Atkinson advised 24th August 1833, that after immense Expense the Gardens were prepared for the Reception of his Friends and the Public and he trusted that the Immense Improvements, Alterations and Embellishments, he had made, would secure him that Generous and Distinguished Support that it would be his anxious study to deserve.
The Gardens were to be open Tuesday & Wednesday 27th & 28th August 1833 and feature a Splendid array of Illuminations. There would be a Grand Concert on each night, commencing at 7:00pm.
Artists featured would be:-
Mr. J. D. King of the Nobility Concerts, London
Miss Gordon from the Theatre Royal, Drury Lane
Mr. S Phillips
Mr. Bryant, Comedian, Song Writer and Celebrated Irish Vocalist of The Metropolitan Theatre.
Leader of the Band would be Mr. Mingay
The Conductor Mr. Mendham.
The Orchestra would be Full and Complete.

Selections of songs would include:-
The Maid of Beulah Spa
Ho! For Merry England
Come where the Aspens quiver
Jamie is far o'er the Sea
Green Hills of Tyrol
We'll set up a Coffee Shop
The Lass of Gowrie
Deck not with Gems
The Soldier's Tear
There's no Lad in Ireland like Larry Magee
Barney's second night with Judy

Antonio De Castro would perform on the Slack Rope
The Surprising Juggler, Mr. C. Taylor to go through his astonishing performances. (On 17th August 1833 it was advertised that the Unrivalled Juggler was a protégé of Ramo Samme.)
Miss Stone would exhibit Extraordinary Feats on the Corde Elastique!

A Full Military Band would be stationed in the Gardens

The whole to conclude with a Magnificent Display of Fireworks.

An immense stock of London Stout Porter and Ale and Wines and Spirits of the First Quality all at Moderate charges.
Admittance One Shilling.

~

Edward Holmes applied for a full licence Tuesday 6th September 1859 but did not attend the magistrates hearing and so it was refused.

On Monday 24th October 1859, Edward Holmes was fined for having his house open, the previous morning, at 11:20am. His second offence and the Mayor said that is he came before the bench again, he would be fined £5. If there a repetition, he would lose his licence.

~

Given as the APOLLO GARDENS in 1826, 1830 & 1836.
The APOLLO TEA GARDENS in 1839.
Located between Apollo Walk and Apollo Terrace.

Address as North Terrace 1863
Caister Road in 1869 & 1871

53 Caister Road 1886.

Referred to Compensation 05..02.1930
Licence (Beerhouse) expired 02.02.1931
(original house demolished c1930)

Full licence granted 02.02.1931
for new house, which opened September 1931.
(An unusual result following application for Compensation, but
The licence of the QUEEN VICTORIA was given up in consideration).


Trading as the CASK & CRAFT by March 2015
Plans announced June 2018 to convert into two "Units" upon the retirement of the licensee.