Licensees :
-
JOSEPH HUNN & basketmaker
*1836
See CROWN
1845
JOSEPH HUNN
Age 47 in 1851
(Farmer & thatcher in 1858 - no beer mentioned)
(Died Q3 1887 ?)
*1850 - *1856
GEORGE BUNN
Age 52 in 1861 & shopkeeper.
1861 - 1864
ROBERT ENGLAND
*1869 - 1873
GEORGE RUMBOLD
01.12.1873
JAMES ARNUP
28.02.1881
HENRY HARDING HALL
12.11.1888
JOHN CHESTNEY WATTS
06.05.1895
Fine £1 plus 7/6d costs for keeping open out of hours - 10.02.1896
SARAH ANN WATTS
10.04.1911
ARTHUR CHESTNEY WATTS
06.04.1920
ALICE ELIZABETH WATTS
12.06.1967
NORMAN GREEN (Brewery rep ?)
Licence not renewed 1970
16.12.1968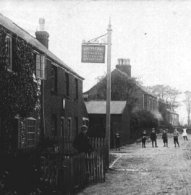 1910
Recorded as the WILLIAM IV in the 1835 Register of Electors, but no licensee given.

The CROWN in 1845 ?

Closure agreed at the First Joint Committee meeting of S&P & Bullards 29 May 1962.

Barrelage for 1961 given as 57
Site offered for sale by auction May 1969
with permission to build 3 dwellings.