Licensees :
-
CHARLES HAWKSLY / HAWKSLEY / HAWKESLEY
1779 - 1795
ELIZABETH HAWKESLEY
1805 - 1808
BARNETT LEACH
by 12.1808 - 1812
WILLIAM PARSON
1819
HANNAH HAWKSLEY
Died 1823
1822 - 1823
JAMES PECK
age 80 in 1841
1824 - 1841
SAMUEL PECK
(age 60 in 1851)
Died suddenly Monday 22nd January 1855 - age 62
1845 - 1855
FRANCIS HEAD TOOP
(Francis Hart Toop 1858 & 1865)
age 40 in 1861
1856 - 1865
JOHN FOULSHAM
died suddenly 26.09.1869
1868 - 1869
SUSAN FOULSHAM
widow age 51 in 1871
1871 - 1877
CHARLES FOULSHAM
& auctioneer 1881 - age 34
& auctioneer & bailiff 1883
& flour seller & auctioneer 1891
& coal & corn merchant & agent for Alliance Insurance 1900
1879 - 1912
WILLIAM GEORGE RIX
1915 - 1916
ROBERT SHAW
1922 - 1937
.
-






A Game Cock.
Stolen, on Saturday Night, the 24th of last March, from Mr John Knight's, Windmill, in Attleburgh, Norfolk,
a black Breasted Duck-winged Cock, with white Legs, marked on one or both Norrels, three Years old, weighs upwards of five Pounds.
Whoever will give Information of the said Cock, so that the Offender may be brought to Justice, shall, by applying to Charles Hawksly, at the Cock, in Attleburgh, be well rewarded for their Trouble, and all paid all Expenses, etc.


Norfolk Chronicle - 7th April 1781



Thanks to David Foulsham for added information 05.09.02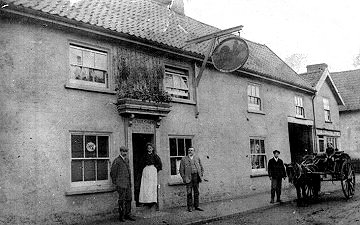 c1910 - Image provided by David Foulsham.

Mentioned in Sylas Nevilles diary 1768.

~
In February 1779, Mr. Hawkesley was offering the services of his well-bred Bay Horse, called the Fox, at One Guinea a Mare and One Shilling the Man. It was his third Season.

~

1795 - COCK INN, ATTLEBURGH NORFOLK
CHARLES HAWKSLEY- HUMBLY begs leave to inform his Friends and the Public in general, that through the very alarming price of Horsekeeping and every other necessity of life, it is impossible for him to let his Post-chaise at 9d per mile therefore hopes that the small advance which has been made by his neighbours at Norwich, and on most other Roads, in England for some time will justify his taking the same step.
~

For sale by Auction October 1808 with immediate possession.
Then in occupation of Mrs Hawkesley, whose ill health obliged her to decline the business.

~

In a notification dated 19th December 1808, Barnett Leach, from Cambridge, informed the Nobility, Gentry and the Public in general, that he had taken the Inn.

~

For Sale by Auction Monday, 1st August 1812 owing to the ill state of the Proprietor, Mr. Barnett Leach.
(Sale later advertised to be on Wednesday 3rd August 1812)

~

For sale by Auction : By William Parson
Tuesday 15th June 1819
`The old established Inn & Posting house, comprising of 4 Parlours, Bar, Kitchen, Larders, Pantries, Suitable Bedrooms and Attics, Wine, Beer and Coal Cellars, a Tap, Wash House, Lock up Coach and Chaise Houses, Ostlers Cottage, Stabling for 50 horses, Barn and convenient outbuildings, Excellent Garden, well planted with fruit trees and Summer House therein, With 7 acres of Rich Pasture land, now in the occupation of the proprietor, who will give early possession' - The sale to include ALL Wines, Spirits and Liquors, and other stock.

~

For Sale by Private Contract April 1823, including Eight Acres of rich Pasture Land, late in occupation of Miss Hawkesley, deceased.
Advertised again in June 1823.
For Sale by Auction Thursday 9th October 1823.
~

James Peck, late of the WHITE HORSE INN, Old Buckenham, informed the Nobility and Gentry, 24th January 1824, that he had taken the Inn.

~
In 1830 the coach `The MAGNET' called at 6.15pm every evening on the way from Norwich to London.
The `ROYAL MAIL' called at 6.30pm on the same route.
Every morning the `MAGNET' stopped at 6.15am on the return journey to Norwich, with the `ROYAL MAIL' scheduled to stop at 7.30am.
~

Offered for sale by auction Thursday 30th June 1831.
With spacious and commodious stables, coach-house, yard, gardens, summer-house, cottage, barn, and piece of Pasture Land adjoining, containing 2A. 1R. 0P.
House containing three parlours, porter-room, bar, kitchen, scullery, pantry, larder, two stair-cases, eleven sleeping-rooms, three servants-rooms, and capital wine and beer cellars. Large Yard and stabling for 50 horses; well planted Gardens, The only Posting House in Attleborough.
~
All the Horses, Carriages, Harness, valuable Household Furniture and Effects of Mr. Samuel Peck were to be sold by auction Monday and Tuesday 9th and 10th October 1848.
It is apparent that the sale raised sufficient funds for Mr. Peck to continue at the Inn for at least another six years.
~
Offered for sale by auction 5th December 1854 -
`All that Capital Inn....replete with every convenience, and doing good business in the Wine & Spirit Trade, as well as Ale & Porter; comprising a well-accustomed commercial room, parlour, bar, kitchen, back kitchen, cellar, sundry convenient and comfortable sleeping rooms and attics; with excellent stables, loose boxes, hayloft, chaise houses, &c., and large garden with paddock at the back.
Also the Two Excellent Cottages, now in the occupations of William Warren and William Cann Barnard, and which, with the above, front the turnpike road, in Attleborough Street.
The land, including the site of the buildings, contains about one acre.
Possession will be given at Lady or Michaelmas next, to suit the convenience of the purchaser. The present occupier and owner, Mr. Samuel Peck, has been well known as a highly respectable Innkeeper, for almost half a century, and will, if desired, hire the property at a good rental.'