Licensees :
-
FRANCES BARRETT
here 17.09.1789
JAMES CLETHEROE
See below
1794
WILLIAM THOMPSON STOREY
Died Q2 1840
(W S Storey according to Robson 1839)
1830 - 1839
JAMES THOMPSON STOREY
according to Pigot.

1839
Mrs ANN STOREY
age 36 in 1841
(Widow of William T Storey, later re-married to Charles Sunman of Crown Inn, Sheringham)
1841 - 1850
HENRY BARCHAM
age 24
(Husband to one of Ann Storey's daughters)
1851
JAMES TUDDENHAM
1854
JOHN PYE
age 31 in 1861
1858 to 1883
JOHN FORSDICK
age 50 in 1891
05.05.1883
ALFRED JAMES NEAVE
08.1893
JOHN WILLIAM SCOTT
age 40 in 1901
16.12.1895
SARAH ANN VARLEY
age 45 in 1911
(Left Fakenham Rampant Horse 1903)
Died Q3 1915 - age 45
undated -
here 1908
HERBERT CHARLES LONG
Died Q2 1952 - age 70
05.06.1916
SUSIE LAVINA LONG
Died Q1 1963 - age 78
25.07.1952 - 1963
WALTER F LONG
1965 - 1972
PAT & TOM BURT
1973
BERYL & MICK BURTON
29.03.1977
SHELIA & MICK LAKE
02.1985
to c1987
DANIEL REES & SUE CATT
by 1997
MARTIN PANTER
by 2004
FRANCIS GUILDEA
October 2011
-
On Tuesday 18th January 1831, Mr. Proudfoot of Wiveton married Mrs. Cletheroe, widow of the late Mr. Cletheroe, of the White Horse, Blakeney.
Thanks to Pam Watts for further detail
and Andrew Holmes (07.2012) for expanding the Storey / Barcham history.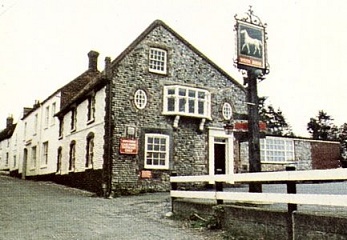 c1970


Originally built in 15thC, rebuilt in 17thC.
Lot No. 25 in sale of Reepham Brewery (Bircham & Sons) 08.06.1878.
Then let to John Pye at an annual rent of £18.
Containing :- Tap Room, Bar, Bar Parlour, Large Back Parlour, Pantry & Wash House, Underground Cellar, 6 Bedrooms, 2 Attics; Yard enclosing Cart Lodge and Stables for 9 horses.
Freehold purchased by BULLARD.

In a letter dated 18th December 1967, Bullards informed the Licensed Property Valuer that structural alterations were completed 1st May 1967 and plans were enclosed.

Bullard & Sons informed the Licensed Property Valuer, 30th January 1968
that no structural changes had been carried out since the 1956 revaluation,
but an adjoining cottage had been demolished to enable a car park to be established.
This had been completed in August 1962
A `Smugglers Tunnel' was revealed in 1978.
The tunnel was found to run from under the White Horse car park to the Blakeney Hotel (The site of the former CROWN & ANCHOR).
In the other direction it led to the area of the British Legion car park.
Courtyard converted into conservatory according to January 1998 article. It had originally been covered in 1980 and used as a family room. The cover had been taken off in renovations during 1992.
Map ref TG 0243 map 8