Licensees :
-
JOHN BROWNE
1789
ELIZABET BROWNE
1794
-
JOHN ROPE
1820
BENJAMIN MUNFORD
age 60 in 1841
( died Q1 1852 )
1830 - 1841
DANIEL ROLL
1845 - 1846
JOSEPH BEANE
age 66 in 1851 & farmer 22 acres
1846 - 1851
EDWARD SHALDERS
& horse dealer
age 56 in 1871
( died Q4 1879 )
1854 - 1879
Mrs ANN SHALDERS
age 67 in 1881
1881 - 1883
WALTER EDGAR SHALDERS
age 40 in 1891
& horse dealer
( died Q3 1892 )
1888 - 1892
Mrs GEORGIANA SHALDERS
widow
age 45 in 1901
1896 to 1909
WALTER FREDERICK JULIER
12.10.1909
EDWARD JOHN LEGGETT
05.11.1935
-
ALAN GOODRIDGE
( Later at ROYAL STANDARD)
1947 to 1953
J. GUEST
1954 -
-
BOB CARRIAGE
here April 1968
-
JOHN CRAVEN
1980
-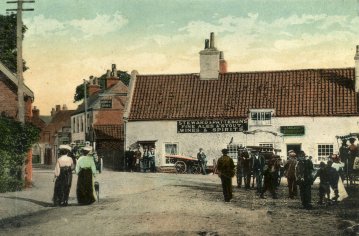 c1906 image
Recorded in East & West Flegg Register taken 17th November 1789.

For Sale by Auction 6th December 1820, then in the occupation of John Rope.

On 11th July 1846, Mr. M. Smith, of Providence Place, Diss, purveyor of celebrated Botanical Medicines, quoted the case of Mrs. Roll, wife of Daniel Roll, of the Kings Arms, Caister. Having suffered a long time of cancer of the breast, she had not derived any benefit from the medical gentlemen of Lowestoft, whose only solution was amputation of her breast and to that she could not consent. As a last resource she had applied to Mr. Smith, under whose care she found immediate relief, and after two months a perfect cure was effected. Five years having elapsed, there were no further symptoms of the disease.
( Mr. Smith also had a collection, upwards of 1300 pieces, of bones from every part of the human body, which had been painlessly removed and were available for public inspection. )


Rebuilt by S&P c1935/6 at a cost of £5,410
Damaged by enemy action during WWII - exact date to be determined.