Licensees :
-
JOHN ENGLAND
age 52 in 1851
& waterman
(Listed in 1841 census as waterman - no mention of beer)
Died Q2 1860
1851 - 1856
WALTER THOMAS CROWE
& wherry owner
age 35 in 1861
1858 to 1880
ALFRED JACOB GOLDSPINK
age 38 in 1881
22.11.1880
JAMES WILSON
age 33 in 1891
19.01.1891
ABRAHAM GEORGE WRIGHT
09.03.1894
WILLIAM PETER JUNIPER
11.03.1895
BENJAMIN AMBROSE COLLINS
age 54 in 1901
18.11.1895
THOMAS WILLIAM PEART
01.01.1906
JAMES BANHAM
01.01.1917
THOMAS WILLIAM PEART
19.11.1917
EDWARD HENRY HAMMOND
07.11.1927
JAMES JENNINGS
26.04.1937
BERT NELSON
11.04.1950
FREDERICK WARMAN
20.09.1954
-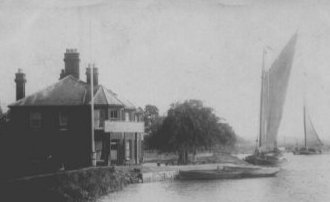 c1905
Mr. England offered for sale his Handsome 4 year old Bay Filly, 5 prime young Cows, 10 Stock Ewes, 2 Homebred Steers, 2 young Sows, 6 boats, Oats and Bails with part of his Household Furniture and Dairy Utensils Etc., on Monday 9th October 1854.
His reason for selling was because he was changing his residence.
~

Post Office officially opened at the house 03.04.2000
Renamed the REEDCUTTERS by Autumn 2004.