Licensees :
JAMES CHAPMAN
07.09.1874
BETSEY NEAL PRIMROSE
03.11.1879
EDWARD BURTON
26.08.1901
ROBERT EDWARD THOMPSON
17.02.1902
ROBERT WALPOLE PALMER
26.02.1906
JAMES RICHARD ROPER
01.07.1907
ROBERT WALPOLE PALMER
(Mrs ELIZABETH PALMER 1912)
30.11.1908
CHARLES GORDON HICKS
17.10.1921
EDITH ELIZABETH HICKS
09.11.1925
WILLIAM HENRY MANN
07.10.1929
ARTHUR LLOYD JONES
02.11.1931
THOMAS BAKER JONES
28.05.1934
CHARLES GORDON HICKS
30.09.1935
ALFRED RODWELL
17.09.1945
DUDLEY ALBERT GRIMBLE
29.11.1954
ALEX FELDMAN
24.01.1955
HAROLD DAVEY SEMMENCE
15.10.1956
HENRY GEORGE TRAYNIER
(also found as Trayner)
10.12.1956
THOMAS POTTER
07.12.1959
RONALD EDMUND COOKE
11.01.1962
CYRIL TAGG
01.02.1968
THOMAS MORGAN EVANS
20.11.1969 - 1982
BERTRAM WHESTON
1982 - 1995
MICHAEL EDWARD ANNISON THACKER &
TIMOTHY THACKER
1995 - 1998
-

Mr. R. E. Thompson and his wife Rebecca Louisa had married in Cape Town in 1893 and subsequently came to England. They took the Bath Hotel in 1902 and were there to 1906 when Mr. Thompson became manager of a hotel in Holloway, London. Mrs Thompson sued for divorce Wednesday 22nd January 1908 on grounds of cruelty and adultery. It was stated that, while in Cromer, she had been thrown down stairs and on another occasion Mr. Thompson had threatened to `do' for her. Other evidence that he had committed misconduct with his manageress was presented.
A decree nisi was granted.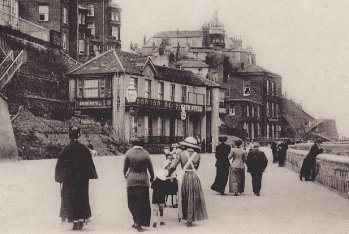 c1910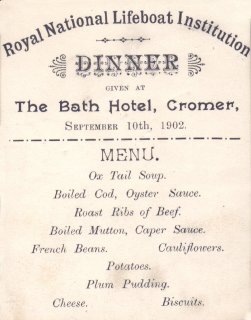 1902


Originally building was built c1814 and was used as a subscription reading room. Bathing facilities were added c1824.

Present building dates from 1836 when rebuilt following destruction by a storm.

As a bath house it was also the family home of school teacher Simeon Simons, until his death in 1867 when it was sold to Henry Rust.

The house was next owned by brewer and wine merchant James Chapman who, in 1872, converted the building into a hotel and added the western wing, for use as a billiards room.

Morgans sales for 1960 were : -
107 barrels of beer &
51 spirits. Closed (Temporarily?) by 2001