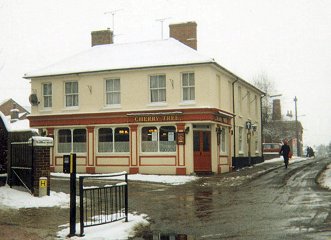 January 1996
Offered for sale 18th April 1812, as an old accustomed public house (at which the weekly pig-market is continuously held), with suitable outhouses. yard and gardens and the close of land adjoining, containing about two acres.
For Sale by Auction Friday 26th September 1834 with possession from Michaelmas (29th September).
Address as Pig Market in 1839.
In 1830 carrier Fairweather called every Thursday at 10:00am on way from Norwich to Swaffham.
Emily Wren (21) and her sister Maria (17) customers at the Cherry Tree, were accused of stealing £3 16s from Land Transport Corps member J. Burke. On July 31st 1856, Mr. Burke, who was staying at the Half Moon, had visited the Cherry Tree and sat drinking with the girls until midnight. The two girls took him across fields to a stack where they lay down and he fell asleep. When he awoke the girls were gone and he could not account for his money. Several witnesses proved that he had spent freely in the public house and the girls were acquitted.
Mr. Tuck appears in the census of 1871 to 1891 as Maker Tuck.
The Foresters Friendly Society met here in the 1880's.
Closed for trading Tuesday 4th January 2011.
Re-opened Friday 14th December 2012