Licensees :
SAMUEL TUTHILL
1836 - 1845
SAMUEL STRUTT
age 51 in 1851
Died Q4 1857
1846 - 1857
Fine of 10s plus 8s 6d costs, 20th May 1850 for allowing card playing - see opposite.
ARTHUR JOHN GOGGS
age 34 in 1861
(Died Q2 1890 - age 63)
1858 - 1873
RICHARD NEAL
age 45 in 1881
(Died Q1 1908 - age 77 ?)
1875 - 1888
BENJAMIN CRISP
age 40 in 1891
Died Q3 1891
1890 - 1891
Mrs ELIZABETH CRISP
Elizabeth Hetty Crisp died Q3 1895 - age 47
1892
Mrs SARAH ANN STRATTON widow.
Previously at Wissonsett Swan
(Married George Henry Varley November 1896)
1896
GEORGE HENRY VARLEY / VURLEY
(Died 1911 - age 77)
1900
SARAH ANN VARLEY / VURLEY
age 35 in 1901
(Went to Blakeney White Horse)
(Died Q3 1946 - age 81)
by 1901
FRANK WALFORD
Died March 1917 - age 65
30.10.1903
FRANK EDWARDS
25.06.1917
ERNEST REGINALD WALTER RICHES
(Died March 1958 - age 73)
30.10.1922
DOUGLAS ARTHUR OLIVER BAKER
(Brewery representative)
27.12.1933
ROBERT EDWARD GANT
(Died September 1952 - age 69)
06.02.1934
GEORGE AUGUSTUS KENNARD
24.09.1945
ARTHUR FRIEND
10.02.1947
ALFRED GEORGE DIGWEED
(Died May 1992 - age 90)
12.11.1951
HAROLD SIDNEY SMITH
28.07.1958
GEORGE SIDNEY HARDY
(Died April 1994 - age 76)
16.09.1963
CYRIL JAMES YARHAM
Died March 1969 - age 59
14.09.1964
MARGARET YARHAM
1969 - 1973
RICHARD CHENNELL SMITH
26.11.1973
.
CATHERINE BEANE
September 2006

10.08.1996

Address also found as Clay Pit Lane and,
in 1836 as White Horse Street.
Cemetery Road 1869.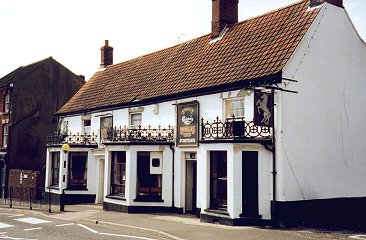 24.08.2001
All the valuable Household Furniture and Effects of Samuel Tuthill were offered for Sale by Auction on Monday and Tuesday, 21st and 22nd April 1845 since he had disposed of the Business.
The sale actually took place 28th and 29th April 1845.
In court Monday 20th May 1850, the police accused Samuel Strutt of allowing card playing. Strutt said that he was not present and had not sanctioned the game, but the prosecuting police-officer said he was in the same room. Strutt said that as soon as he was aware of the card playing he put a stop to it and in any event, the customers were not playing for liquor or money. The Magistrates took that final statement to confirm his knowledge of the game.
Samuel Strutt was fined 10s and 8s 6d costs for allowing card playing, the offence taking place on 4th May 1850.
For Sale by Auction Thursday 26th November 1857, late in the occupation of Mr. Strutt, deceased.
Containing Entrance, two Parlours, bad Liquor Bar, Kitchen, back Kitchen, Larder, large Club Room, four Bed Rooms and Attics, capital arched Cellars capable of holding thirty barrels, Brew-house with Chamber over, Coal-house, Stabling, lock-up Gig-house, Sheds, and enclosed Yards suitable for fifty Horses and Gigs, Hay-loft, Harness-house, pump of excellent Water and other Conveniences.
The Lynn Advertiser of 3rd June 1910 reported that James Graver, a haytrusser of Fakenham was charged with being drunk and disorderly on the evening of 5th May. He had refused to leave the premises and used `very disgusting language'. The defendant left the premises upon arrival of police Inspector Powles. Defendant was fined 20s with 4s costs.