Licensees :
-
-
-
-
ROBERT COOK
(Went to DUKES HEAD, Kings Lynn)
1731 to 1758
WILLIAM BURTON
(Previously at White Hart, Thetford)
January 1764
JOHN CROFT
1780
HUGH DADE
1786 - 1796
ROBERT SHEARING
by 12.09.1796
GEORGE BENNETT
by 08.09.1798
HENRY RADWIN / READWIN
c1808 - to at least March 1810
Mr. R. HASTINGS
1810 - 1817
J. S. BAKER
01.09.1819 -1827
JOHN SEPPINGS HOWLETT
10.1827 - 1830
ROBERT RICHES
Age 40 in 1841
*1830 - 1841
ROBERT LEAMAN
1845 - 1846
ROGER HARRISON
age 41 in 1851
Died December 1858
October 1848 - 1858
Mrs MARY ANN HARRISON
age 57 in 1861
(Marian Harrison 1864)
(Died Q1 1872 - age 75)
1859 - 1870
JOSEPH BISHOP
(Died within months of taking on premises)
October 1870
ALICE BISHOP
age 48 in 1871
Died December 1872
1871 - 1872
HENRY FARRIN
1875 - 1877
JAMES BARBER
age 39 in 1881
Died Q1 1885 - age 42
1879 - 1883
HENRY WILLIAM OWLES
age 43 in 1891
Died Q2 1900
1888 - 1900
ELIZA OWLES
age 48 in 1901 - widow
Died September 1919
by July 1900
SAMUEL WALLER
27.10.1919
HENRY JAMES SPENCER
Died September 1945 - age 56
25.04.1927
MABEL ELLEN SPENCER
13.08.1945
WILLIAM EVANS
(Died June 1965 - age 73)
12.11.1945
EDWARD FRANCIS WINDSER
(Ted - known as The Major)
21.07.1952
LACEY ANTHONY ENDERBY
(Died October 2003)
31.03.1958
STUART ALAN CLARKE
04.11.1974
-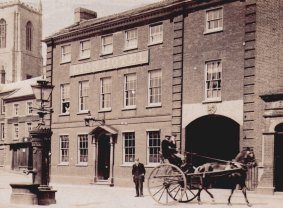 c1915 - As the LION HOTEL.

Described as a Tudor coaching inn.
~
From the travel diary of the 2nd Earl of Oxford, dated 18th September 1732 :-
"We left Norwich and came to Fakenham. We came there in good time. The town is a very poor town, but it was the only place we could stay at to make our journey right. We lay at the "Red Lion" kept by one Cook, a sorry house."
~
William Burton laid in a Stock of neat Wines of all Sorts, Arrack, Rum, Brandy &c. when he took over the house January 1764.

~

It is recorded that in 1778 a gentleman offered to meet workers here who had complained of high prices. The gentleman ordered bread and beer for the 300 souls that turned up, but then, instead of redressing their grievances, he told them that their meeting was illegal. The ensuing fury led to the breaking of several windows and the hasty retreat of the said gentleman. Another view of the event was reported in the Northampton Mercury of 23rd March 1778. It said that 200 labourers had met with the Justices at the Red Lion to complain of high prices of the necessities of life and low wages. The Magistrates disagreed and following noise, threats and action that resulted in a broken window or two, they called for a troop of horse to prevent further disorder.
~
Parson Woodforde dined here 14th September 1787 and described innkeeper Dade as a Somerset man.

In a notification dated 10th May 1796, it was earnestly requested that all debts due to Hugh Dade be paid immediately and all those with demands upon him, to send their accounts to Attorney at Law, Mr. William Stokes.
Owing to the situation of Mr. Dade it was hooped that all debts would be settled without delay in order that his creditors could be paid.

~

Offered To Let 18th and 25th March 1797 with four Acres of good land adjoining.

~

The Fakenham Venison Feast was held here Monday 1st August 1803.
Tickets 10s 6d each.

~

It was advised in a notice dated 27th March 1805 that Inn-keeper George Bennett had assigned all his Effects to Messrs. Bagge, Whiteman and Ivory for the benefit of his creditors.

~
On Friday 28th January 1814 Estates at Kettlestone, Little Snoring, Pensthorpe and Great Snoring were offered for sale by auction.
~
J. S. Baker announced his arrival at the house 1st September 1819, where he intended fitting up in a genteel style....

~
A Post Windmill at Gt Snoring was offered for auction here
on 13th April 1826.
~
Shown on Bryant's 1826 map.
~

John Ashley was committed to Walsingham Prison during the week of 27th January 1827, being found guilty of stealing two glasses, the property of Mr. J. S. Baker.

~

Advertised For Sale by Private Contract September 1827.
The Proprietor was Mr. Robert Leamon of Whitwell, near Reepham.
House then described as with three excellent parlours, two spacious dining rooms, fifteen sleeping rooms, convenient bar and tap room, two kitchens, three cellars, extensive paved yard and stabling with coach houses, granary, bowling green and every convenience for carrying on an extensive and lucrative trade.

~

On 6th October 1827, John S Howlett, late of the BELL INN, informed the Nobility, Gentry, Commercial Gentlemen and the Public in General, that he had taken the Inn.
~

In 1830 the coach the HERO called at the CROWN & the RED LION every alternate morning, except Sundays, at 6:00am on route to London.
~
John Howlett is given as licensee in Pigot & Co's directory of 1830.

All the Posting Horses, Chaises, Gigs, Harness, Household Furniture, Plate, Linen, Wines and other Effects of Mr. John Seppings Howlett were offered for sale by a Deed of Assignment, by direction of the Assignee, on each of the days of Monday 22nd February to Saturday 27th February 1830.
The Furniture included that of fourteen bedrooms.
A Catalogue of Effects was available from the Red Lion priced 6d.

The house was refitted for R. Riches in 1830, so it is assumed that Mr Riches took over immediately from Mr Howlett at about the time of the February sale.
~
Robert Riches thanked his Friends and Customers and announced that after Eleven years at the house, his Farwell Dinner would be held on Thursday 30th September 1841.
~

On Monday 4th September 1899, the Red Lion Hotel (Bowling) Green travelled to the Wherry Hotel, Oulton, Suffolk, to play in the final Norfolk and Suffolk Bowling Association tournament, against the Great Eastern Hotel Green of Lowestoft. After a well conducted match the Great Eastern won by 8 points.
Following a substantial repast Mr. Waller, acting president of the association, presented the Great Eastern Group with a cheque for £5 and the associations challenge cup. The Red Lion team received £2 and the challenge cup presented in 1895 by Mr. F. Danby, as absolute property of the Fakenham Green, they having won it three years in succession


House used as Council offices from 1976 to September 2000.