Licensees :
........ COOK
1732
ROBERT COOK
( Went to DUKES HEAD, Kings Lynn)
to 1758
WILLIAM BURTON
( Previously at White Hart, Thetford )
January 1764
..... DADE
1787
HUGH DADE
1789 - 1794
ROBERT SHEARING
by 12.09.1796
GEORGE BENNETT
by 08.09.1798
HENRY RADWIN
c1808
Mr. R. HASTINGS
1810 - 1817
J. S. BAKER
01.09.1819 -1822
JOHN S HOWLETT
1830
ROBERT RICHES
* 1830 - 1839
ROBERT LEAMAN
1845 - 1846
ROGER HARRISON
age 41 in 1851
1849 - 1858
Mrs MARY ANN HARRISON
age 57 in 1861
1861 - 1869
ALICE BISHOP
age 48
* 1871
HENRY FARRIN
1875 - 1877
JAMES BARBER
age 39 in 1881
1879 - 1883
HENRY WILLIAM OWLES
age 43 in 1891
1888 - 1896
ELIZA OWLES
age 48 in 1901 - widow
by 1901
SAMUEL WALLER
27.10.1919
HENRY JAMES SPENCER
25.04.1921(?)
MABEL ELLEN SPENCER
13.08.1945
WILLIAM EVANS
12.11.1945
EDWARD FRANCIS WINSER
21.07.1952
LACEY ANTHONY ENDERBY
31.03.1958
STUART ALAN CLARKE
04.11.1974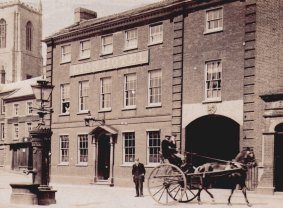 c1915 - As the LION HOTEL.

Described as a Tudor coaching inn.
~
From the travel diary of the 2nd Earl of Oxford, dated 18th September 1732 :-
"We left Norwich and came to Fakenham. We came there in good time. The town is a very poor town, but it was the only place we could stay at to make our journey right. We lay at the "Red Lion" kept by one Cook, a sorry house."
~
William Burton laid in a Stock of neat Wines of all Sorts, Arrack, Rum, Brandy &c. when he took over the house January 1`764.

~

It is recorded that in 1778 a gentleman offered to meet workers here who had complained of high prices. The gentleman ordered bread and beer for the 300 souls that turned up, but then, instead of redressing their grievances, he told them that their meeting was illegal. The ensuing fury led to the breaking of several windows and the hasty retreat of the said gentleman.
~
Parson Woodforde dined here 14th September 1787 and described innkeeper Dade as a Somerset man.

~
On Friday 28th January 1814 Estates at Kettlestone, Little Snoring, Pensthorpe and Great Snoring were offered for sale by auction.
~
J. S. Baker announced his arrival at the house 1st September 1819, where he intended fitting up in a genteel style....

~
A Post Windmill at Gt Snoring was offered for auction here
on 13th April 1826.
~
Shown on Bryants 1826 map.
~
In 1830 the coach the HERO called at the CROWN & the RED LION every alternate morning, except Sundays, at 6:00an on route to London.
~
John Howlett is given as licensee in Pigot & Co's directory of 1830.
The house was refitted for R. Riches in 1830, so it is assumed that Mr Riches took over from Mr Howlett at about that time.
~
House used as Council offices from 1976 to September 2000.