Licensees :
RICHARD CARRAWAY / CARROWAY
(First licensee 1829 ?)
1829 - 1830
SAMUEL SMITH
1836
ROBERT BARRETT
age 35 in 1841
(Gardener at Bridge Street - age 43 in 1851 ?)
1839 - 1850
GEORGE FULLER
& Ostler - age 33
(Died Q3 1851 ?)
1851
JOSEPH RUDLAND
(Joseph Rudling in 1856 according to Melville)
& cattle dealer
(Died Q3 1888 - age 57 ?)
1854 - 1856
GUY HAGON
See opposite
1858
WILLIAM TODD
age 29
1861
JOHN OLLYARD
1862
BENJAMIN LANGLEY
& horse breaker
1863 - 1865
GEORGE BARRETT
1868 - 1869
ROBERT WOOLNOUGH
age 70 in 1871
(Robert Woolnought 1875)
* 1871 - 1875
WILLIAM TANEY
& marine store
& fish curer
(also as Tancy)
age 46 in 1881
(Died 1855 ?)
1875 - 1883
Mrs ELIZA TANEY
age 58 in 1891 - widow
(Died Q4 1891 ??)
1888 - 1891
CHARLES HENRY DORLING
1892
DENNIS WILLIAM SMITH
& dog trainer
age 34 in 1901
1896 - 1901
WALTER CLEARS
Died Q1 1911 - age 65
by 1903
Mrs LYDIA CLEARS
(Died September 1936 - age 86)
24.04.1911
GEORGE HARRY STUBBS
(Died July 1991 - age 86)
30.04.1928
to at least 1975
-
Mrs MARY RUMBOLD
by 2001
KEITH TILCOCK
06.2009
TOBY JOSLIN-HUTCHINS
08.2009 to Oct 9th 2010
Ms CLARE NEWBERY
12.2010
JANINE SCOTT
19.04.2011 -
June 2012
Mrs CAROLE YATES
August 2012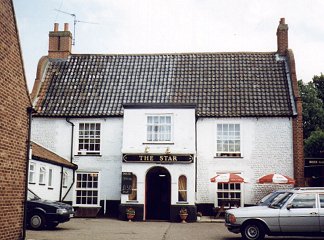 10.08.1996
Building reputed to date from c1600.
Recorded 1st October 1689 as a messuage, formerly three tenements.
Described in 1800 as having been for several years, a Surgeons Shop, Brewhouse, Wash-house and Stable with chambers over, lately converted by Thomas Edgar into cottages and dwelling house.
Described as a Pilgrims House before becoming licensed premises.
On 7th November 1829, under the heading `Sheep and Pig Market, Star Inn,' Mr. R. Carroway informed the Public that he had opened the above Inn and would provide Neat Wines, Spirits and Mead's Fine Ales. A Sheep and Pig Market would be held on Thursdays and Sheep Pens and good Stabling was provided.
In March 1861, Guy Hagon, bricklayer and publican, late of Fakenham was discharged from custody having been arrested on 5th February 1861 with debts of £227 18s 4d and credits of £48 10s 9d.
Purchased 1st May 1872 by Thomas Charlton, brewer, from Robert Bereton esq.
John Ollyard featured in a court case at Walsingham in September 1862 over an unpaid bill of £2 14s. 1d from Donald Sinclair, an elderly gentleman from Caithness.


An extension to 1:00am for the Annual Dinner on 2nd January 1882 was applied for and granted at the Magistrates Petty Sessions 26th December 1881.

Advertised To Let December 1891, good Premises, stables, garden and outbuildings, suitable for a wheelwright, tradesman or dealer. Apply Thomas Charlton, Brewery, Fakenham.

Closed by March 2013.
Licence surrendered 6th September 2013.